TIP TIG is not simply the evolution of TIG welding, for code quality welds, it's the evolution of all arc weld processes. For those awake in Covid 2020, welcome to the now ten year old, TIP TIG process.
In the above video, you could ask yourself  the following questions.
Why is this super hot looking stainless weld  silver in color, what happened to the oxidation  on these thin parts?
 Why is the weld so hot yet the Heat Affected Zone  (HAZ) is so small?
How is that  spatter free, 1/4,  (6 mm)  TIP TIG fillet weld being made at a weld travel rate more in common with a pulsed MIG weld?
For those aware of the  hazards of carcinogenic  weld fumes generated when welding  stainless chrome  alloys, where are the fumes?
 
In an advertisement that I produced for  TIP TIG USA,  the  company  that my partner Tom O'Malley  and I founded around 2009,  I called TIP TIG "the  EVOLUTION of TIG". However while examining the  TIP TIG process on a wide variety of weld applications over the next 11 years, the weld reality with this unique weld process as  you will read at this site, is that TIP TIG is much more than an improved version of  the DC/AC  TIG process. 
FROM TWO TO THREE SEMI-AUTOMATED ARC WELD PROCESSES, Since the 1950's, there has only been TWO SEMI-AUTOMATED cost effective arc weld processes available to the global weld industry, MIG and Flux Cored. And the reality is with approx. 70 years of  process and equipment development, both these processes as you will read at this site cannot be relied on to consistently produce welds subject to X-Rays, that will not require weld rework. Around 2009 in N.America, things changed, I introduced  the semi-automated Plasch invented TIP TIG process to N. America.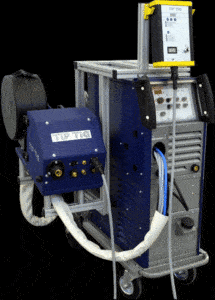 Here we have a   2020, TIP TIG unit connected to a Miller Dynasty 400 amp TIG power source.  Miller proudly claimed that with it's use of sophisticated electronics in the Dynasty, that they were proud to announce to their customers  who did TIG welds with the Dynasty, that in contrast to traditional DCEN TIG equipment, weld shops  MAY anticipate around a 17% increase in hourly TIG weld productivity.

However when a TIP TIG Wire Feeder and Hot Wire power source is added to that Miller Dynasty unit, not only does the weld shop  dramatically reduce the required TIG welders skills, they should also anticipate with the TIP TIG unit at least 200 to 400% more weld each hour. Also for the first time,  the weld shop will attain the weld heat dissipation benefits of DCEN polarity, along with the numerous weld quality and metallurgical benefits that result. 
For 70 plus years, we only had two practical semi-automated weld processes, GMAW - FCAW, however if the best weld quality was required we turned to traditional GTAW.
Two big developers of GTAW equipment in the 1950's – 60s,  Union Carbide & Westinghouse.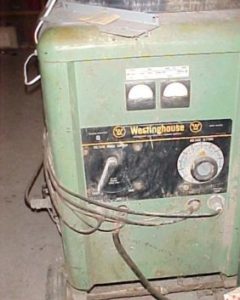 Its a weld reality that with the above old DC TIG weld equipment, or with the 2019, DC TIG weld equipment shown below, the weld shop would produce similar DC weld quality and productivity.  Of course the  2019  TIG welder is now using an  Inverter power source loaded with electronics that could enable DC pulsed frequency, however this equipment also  makes these type of power sources less durable, and more costly to repair. Lets face it, the modern day welder below looks good with his  fancy gloves, jacket and weld  helmet, however the reality for weld shops,  is as they  have been aware  for approx. 70 years,  that  the AC/DC TIG process, when used on code quality welds would provide the best arc weld quality,  while also requiring the highest arc welder skills and producing the lowest weld deposition rates. Those deposition rates also produce slow weld speeds that will influence  the welded part properties.
2019 GTAW (TIG)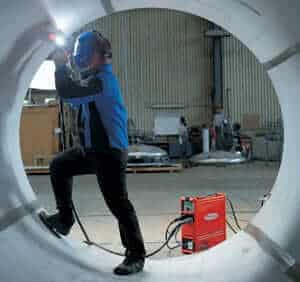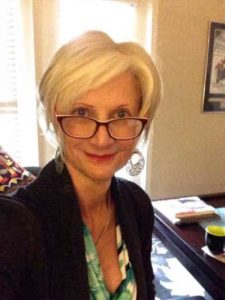 Hello my name is Emily Craig, used to be Ed but now I am where I belong. Many of you will know me  by my twenty year old  weldreality.com  weld blog, or perhaps you were one of thousands that attended my MIG and flux cored weld process control seminars in the 1980s.  Maybe you were one of the 80,000 readers of the "Weld Design  & Fabrication"  magazine  in which each month for almost 20 years, you read the monthly Weld QA column that I wrote. And for those of  you that have a "Machinery Handbook" gathering dust on your shelf,  I wrote  the weld section, and was also the key technical writer of AWS MIG Specifications.
The TIP TIG process was invented by Plasch in Austria. In 2009, when I should have been thinking about retirement, I found this process  in Scotland,  and during a 10 minute demonstration from my friend Darren Mathierson, and I was determined to introduce TIP TIG to N.America and also to Australia.  I established  TIP TIG USA in 2009 with another  friend Tom O'Malley, and a year later Tom and I also introduced  TIP TIG to Australia and  China came running.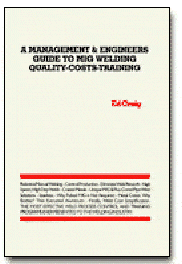 IN WELDING, THE  EXPERTISE, EXPERIENCE AND APPLICATION DIVERSITY OF THE MESSENGER HAS TO BE  HIGHLY RELEVANT…In 2020, I am providing  information on my back ground, as the weld process information I am about to present to you will be very different from what you read elsewhere,  and as you will likely be aware in this industry where process confusion is too often the norm, the weld experience of the engineer presenting any weld data should be highly relevant.  As a weld engineer, who has specialized in Weld Process Controls – Best Weld Practices for more than 5 decades,  I spent the last  40 years working in 13 countries resolving weld application quality and productivity issues. Also as a weld product and training manager with Airgas – AGA – Praxair  –  Liquid Carbonic and the N. American Weld Manager at ABB Robots, I  also spent decades doing arc weld process, consumable and weld equipment evaluations from the world's leading companies from around the globe.
For decades, my focus has  been on the simplification of arc weld process controls and best weld practices required for weld process optimization. Some of you will have one of my three books on the subject, or purchased my low cost self teach / training resources on the requirements of weld process controls – best practices.  I believe that this focus and my 50 years of hands on experience in over a 1000 weld shops, provides me with the expertise and  capability to critique the  global weld industry, and to  point out the unique attributes and detriments of each arc weld process, and how each of the common arc weld processes compare with the TIP TIG process.
Manual, automated or robot welds, my process control training programs  enable weld shops to provide the best possible weld quality at the lowest weld costs, and provide the resources front office weld decision makers need for weld process ownership, plus eliminate the need for weld personnel to play around with weld controls with Manual  MIG – Robot MIG – Gas Shielded Flux Cored – Advanced TIG, and now also now on the TIP TIG weld process. I
IN A WELL MANAGED WELD SHOP, EACH ENGINEER, SUPERVISOR AND MANAGER INVOLVED WITH WELD DECISIONS WOULD UNDERSTAND WITH THE PRIME WELD PROCESSES UTILIZED, THE REQUIREMENTS OF WELD PROCESS CONTROLS – BEST WELD PRACTICES THAT ARE NECESSARY FOR WELD PROCESS OWNERSHIP AND WELD QUALITY & PRODUCTIVITY OPTIMIZATION.

AND WHEN THAT RARE NEW WELD PROCESS OPPORTUNITY COMES ALONG TO FURTHER IMPROVE WELD / PART QUALITY AND DRIVE DOWN WELD COSTS, THESE INDIVIDUALS WOULD FIRST PROVIDE THE JUSTIFICATION, AND THEN IMPLEMENT THE CHANGES, AND PROVIDE THE TRAINING.
UNFORTUNATELY TOO MANY WELD DECISION MAKERS IN FORTUNE FIVE HUNDRED COMPANIES ARE WHEN IT COMES TO WELDING  STUCK IN THE 20th CENTURY:
Someone should put the above advice on the notice board of every Defense, Aerospace , Power , Oil and Medical Equip. company in N.America.
At a time when TIP TIG was available, the shipyard designers, managers and engineers who made the costly decision to use DC TIG  for their Titanium pipe welds produced during construction of a recent, US Aircraft Carrier, were in reality,  well in sync with the Navy,  who every year manages to pay contractors hundreds of millions of dollars on unnecessary weld-rework and labor costs. This sad engineering approach has in Navy Ship Yards gone on for decades, and in 2020, the majority of defense contractors are using a 20th Century, apathetic approach to much of their arc welding and fabrication, an approach that reveals the too common front office lack of capability for front office weld process ownership. 
OVER FIVE  BILLION DOLLARS ARE LOST ANNUALLY ON WELD QUALITY AND PRODUCTIVITY ISSUES, THAT WITH WELD PROCESS CONTROL EXPERTISE COULD EASILY BE ELIMINATED. BY THE WAY THAT'S EXPERTISE THAT GLOBAL COLLEGES AND  UNIVERSITIES DON'T TEACH TO TECHNICIANS AND  ENGINEER STUDENTS. 
 We are all likely aware of the unnecessary hundreds of millions of dollars  lost annually in large ship yards due to poor flux cored  and MIG weld quality and productivity issues,  or the never ending robot MIG problems in most global auto / truck plants. However, it's also a sad weld reality that in 2020, the majority of Defense, Aerospace, Oil and Power industries that are more than well served by mechanical and weld engineers, are in 2020, likely utilizing the 1946 GTAW process. A process that requires the highest welder skills, produces the lowest weld productivity, and to often on heat sensitive weld  applications, puts in too much weld heat into the parts.
When plant or shop weld  decision makers, select the DCEN TIG weld process, in 2020 they need to be aware that they are;
requiring  welders to use unnecessary high welder skills and practices, both of which influence weld quality, the weld uniformity and the weld labor costs,

producing TIG welds that require unnecessary weld starts – stops,  (typical defect locations),

producing  slow TIG welds that are providing unnecessary high welded part  heat, an issue  that affects distortion and mechanical – corrosion properties,

when welding, making titanium and other heat sensitive weld applications more complex,

using a process in which in mfg, its difficult with a group if welders to create uniform welds,

each hour ensuring that their welders are on average adding 200 – 400 % to their  companies weld labor costs.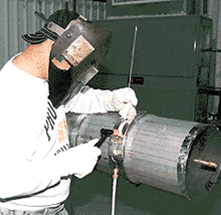 Above. From a weld engineering perspective, DC TIG welding was an inappropriate and outdated approach for this Navy Ship Building yard when it was selected to weld this Titanium and other pipe welds on a 21st Century US Aircraft Carrier.

2009: Chinese National Oil Company. when it comes to welding,  a decade ahead of N.American – European  Oil / Nat Gas companies.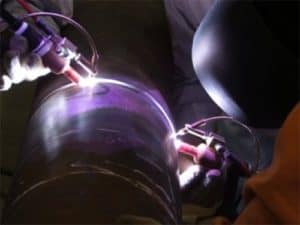 After I introduced TIP TIG to CNOC in 2009, their engineers and managers quickly embraced the process Above in 2009, two Chinese National Oil Company  TIP TIG welders producing Inconel and steel Sub-sea pipe welds, and in reality attaining a weld quality and productivity simply not possible from  Pulsed MIG or DC TIG. (discussed below).  Here we are in 2020, eleven  years after I introduced TIP TIG to N.America,  in the common "why change the way we have always done it"  Defense, Aerospace, Oil and Power company weld shops, too many  engineers and managers  continue to use for their pipe, vessel and plate groove code quality welds, outdated or inferior weld procedures and out dated inferior weld processes such as TIG,  Pulsed MIG of FCAW.

WAKE UP AMERICA….I ALWAYS FOUND IT IRONIC THAT AFTER GOING TO GREAT RISK, HASSLE AND EXPENSE I COULD NOT AFFORD, TO ESTABLISH THE TIP TIG PROCESS IN THE USA AND AUSTRALIA  DURING 2009, THAT THE FIRST COMPANY TO RESPOND  AND PLACE AN ORDER,  WAS ONE OF THE LARGEST OIL COMPANIES IN CHINA. 
In contrast to Pulsed MIG and Gas Shielded Flux Cored, TIP TIG is an expensive process yet it also is a semi-automated process, and  as with any weld process selection, requires logical weld quality – weld productivity and weld cost justification. As for TIP TIG cost versus TIG welder costs, if it takes three TIG welders to do the work of one TIG welder, well even Donald Trump could figure out the annual cost savings produced.   

Keep in mind that for decades in the weld industry, there has been only two semi-automated arc weld processes. Since 2009, there are THREE Manual Semi-automated weld processes  for weld shops to consider for code quality welds, TIP TIG, MIG and Gas Shielded Flux Cored. Anyone that considers the Self Shielded Flux Cored  process suitable for code quality welds,  has from my perspective been listening to misinformation from a salesman or been guided by the screwed up and inappropriate FEMA recommendations. 

All weld shops need to be aware that in 2020, there is no MIG weld  mode or flux cored wire,  (as shown at this site), that will ever attain the all position weld quality capability, or the welded part metallurgical properties on all metals that can be attained by TIP TIG.
The following are the specific weld applications that I recommend TIP TIG be considered for.  Consider TIP TIG when;
all position, code quality welds are required,

the welds require open roots and fill passes that are subject  to internal weld  quality NDT,

the welded parts have  concerns for distortion,

the welds have a special concern about the weld fusion or  porosity.

the welds are on alloys, alloy steels and high strength steels,

the welds and parts require specific mechanical and corrosion properties,

the welds have preheat – inter-pass temp.  or post heat requirements, that could now be reduced or eliminated,

 it's highly cost beneficial if reduced groove weld dimensions are possible,

weld fumes are a  concern,

welds are being produced in which grinding and cleaning need to be eliminated.

Please remember that  the semi-automated or full automated TIP TIG system is also when required an AC/DC  TIG unit. So when TIG is required for example weld a very thin  application 0.010, the welder can just shut the TIP TIG wire feed and hot wire unit off,  and TIG weld the part.

Note Ref Alum. Welds:  If wire feed ability is not an issue as with the > 0.046  5XXX series aluminum wires, TIP TIG using  the Balance Wave, 80 – 90% EN – EP, variable polarity,  will  with the faster welds TIG speeds enabled, lower weld heat to levels never before attained and create aluminum welds with much higher welded part strength and lower weld porosity than has ever been possible with a  TIG or  Pulsed MIG weld. 
SpaceX, rapid evolution in rocket technology, slow evolution in arc weld technology.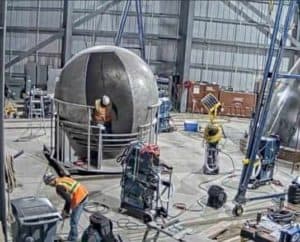 Some are slower than others. SpaceX   first learnt about TIP TIG around 2009, it then took their engineers and managers ten more years to figure out that this was the  arc weld process that would give them the best opportunity to consistently pass the NASA destructive tests for the Falcon rockets.

Evaluating the weld quality / productivity, semi-automated TIP TIG process benefits, as  Elon Musk and his SpaceX managers / engineers eventually discovered,  is not Rocket Science. With this process any weld shop will quickly find out that TIP TIG; 
will in contrast to the other arc weld processes, show that all position welder skill requirements are dramatically reduced,
will always produce superior weld quality with improves weld uniformity and consistently,
will show that inter-pass temperatures are typically not required, and pre-heat and post heat will often be eliminated or reduced.
will show that distortion issues  are no longer a concern,
will reveal on all metals that weld & part cracks no longer concerns, 
will show no weld porosity concerns,
will reveal no weld fume concerns,
will eliminate weld rework,
will in contrast to DCEN TIG, on average, enable 200 – 400%  more weld each hour,
will on all position welds produce weld speeds that are compatible with the inferior pulsed MIG process.                                                   
THE GLOBAL, MANAGEMENT AND ENGINEERING INDUCED NONSENSE  ABOUT THE SO CALLED "SKILLED WELDER SHORTAGE"  HAS FOR DECADES BEEN SIMPLY RIDICULOUS,  AND UNFORTUNATELY IS ANOTHER AN INDICATION OF THE GENERAL FRONT OFFICE LACK OF WELD PROCESS OWNERSHIP CAPABILITY.
So  here we are in 2020, and as they have done for decades, those  managers and engineers that lack the ability for weld process ownership  with  ARC weld processes that typically  have one or two controls, will be found in welding magazine articles complaining about their inability to find "skilled TIG welders". Yet the reality is  that thanks to TIP TIG, the traditional TIG weld skills have been redundant  now for more than a decade. And for those  apathetic managers and engineer  who can't find skilled MIG and flux cored welders, read below or visit www.weldreality.com
Common comment in many global weld shops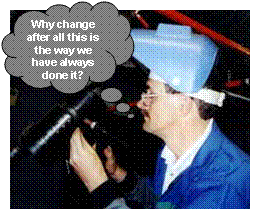 2020.. In the "why change the way we have always done it" Aerospace, Defense, Power and Oil industries, you will find with the majority of facilities that weld are still stuck in the 20th Century  using traditional GTAW   as their prime arc weld process. This is a process that requires the highest welder skills, provides the lowest weld deposition rates and produces high welded part heat input. This is an indication of what?

Welders don't typically advance weld technology, but weld decision makers should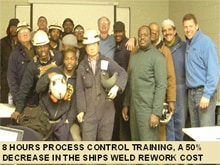 2020. IT'S NOT JUST ABOUT THE LACK OF GLOBAL WELD SHOP AWARENESS OF  THE  10 YEAR OLD TIP TIG PROCESS, IT'S ALSO  THE GENERAL LACK OF AWARENESS OF WELD PROCESS CONTROLS – BEST WELD PRACTICES. 

In the last decade, two of the companies that  I provided MIG and flux Cored process control training  employed approx.  700  weld personnel.  Many of the weld personnel had limited  weld experience, and the majority  with weld experience  played around with their weld controls and were  mostly  using poor weld practices.  One  training program I provided  occurred in a USA. ship yard that made oil tankers and container ships. The other training program was for a company that built  rail road tankers for transporting oil. These two industries had something in common in that they both used gas shielded flux cored and MIG. In both facilities, I required less than 7 days to enable over 200 "none welders" to meet the ship yard ABS ceramic backed, and the rail road companies  AWS steel backed, all position, Gas Shielded Flux Cored welder qualification tests. For those that had weld experience it took  my one day program  for these personnel to learn the requirement for weld quality – productivity optimization.
 Note: Above Photo. Myself in blue sweater in the rear, and my friend  Tom, (blue right), training ship yard welders in something that in reality has for decades, been a missing link in most global ship yards.  Weld  Process Controls – Best Weld Practice Training. This training has little in common with the usual ship yard welder training program. Its a  program  that enables the participants,  the weld process controls – best weld practice expertise, so when they walk up to a MIG power source,  they can instantly,  (without playing around) set optimum FCAW or MIG parameters, and then  use the required best weld practices to produce welds that would ensure minimum weld rework and welds with maximum weld production. 


 Why select the process that requires higher welder skills, inferior quality and creates the highest costs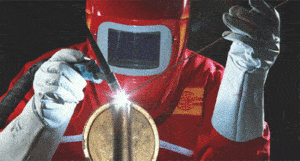 WHILE WELD SHOPS ARE AWARE OF THE  WELD QUALITY OF THE TRADITIONAL GTAW PROCESS,  THEY HAVE ALSO BEEN AWARE THAT FROM A WELD APPLICATION AND COST PERSPECTIVE, IT'S BEEN  A WELD PROCESS THAT'S OFTEN LIMITED IN WELD APPLICATION SCOPE.
FOR 70 PLUS YEARS, WHEN USED IN A MFG. ENVIRONMENT, THE REQUIRED TIG WELDER SKILLS WOULD OFTEN CREATE A LACK OF MANUAL TIG WELD APPEARANCE  UNIFORMITY AND  CONSISTENCY.  
I have been in many Aerospace, Defense and Medical companies that  employed a group of  DC TIG welders making similar welded production parts. And the first thing I would often note  on the weld shop floor,  was apart from the usual, pathetic lack of management / engineering Weld Process Ownership,  there also was a common LACK OF  WELD QUALITY – WELD APPEARANCE UNIFORMITY on the production parts, this was greatly influenced by the fact that manual GTAW was not a Semi-automated weld process.  Also what would be  missing from not only the weld shop floor but also the front office, was an evident  lack of  weld process controls and best weld practice expertise. 
For those interested.  My weld process controls – best weld practice self teach / training resources are  applicable to MIG – Robot MIG- Gas Shielded Flux Cored, GTAW / Advanced GTAW and now also the TIP TIG process.  link here, https://weldreality.com/weld-training-resources/


TO UNDERSTAND THE POSITIVE ATTRIBUTES OF TIP TIG, WELD DECISION MAKERS SHOULD FIRST

UNDERSTAND THE NEGATIVE ATTRIBUTES OF THEIR  DC/AC  GTAW PROCESS

.

As DCEN  TIG for approx, 75 years has provided the best manual arc weld quality for steels and alloys, it's understandable that few weld decision makers will have given consideration to the DC or AC GTA weld issues generated by this important weld process. 
The DC/AC  TIG manual  requirements to feed the  lengths of weld wire into a short arc length, small rapid freeze weld area, influences the  weld current capability and the wire melt energy and uniformity and continuity which of course will influence the weld quality, weld  consistency  attained between different TIG welders that are welding the same products. The manual feed requirements also will  influence tungsten contamination and wear.  

Many DC TIG manual welds, will as a result of the weld wire lengths utilized, have the weld requirement for frequent weld  start and stops, which are common code quality weld defect locations. The starts / stops and very low deposition rates that result in very slow TIG weld speeds greatly influence the welded part heat input.

With the deposition rates attained,  the DC TIG process has from a weld cost perspective, been  poorly suited to many common global weld applications that required a good amount of weld metal.

 The poor TIG deposition rates have on many weld applications, resulted in the requirement of an additional, inferior, secondary weld process such as SMAW, Flux Cored or Pulsed MIG to also be utilized.  With the DC/AC TIG application restrictions,  the weld shop had to acquire additional weld processes / weld equipment,  weld consumables, and required different weld  procedures, welder skills and weld practices.

Low TIG weld deposition rates not only affects the weld speed capability, it also restricts the TIG weld current capability for the weld which apart from affecting the weld fusion and weld porosity, also influence the arc length sensitivity that would often become especially notable with automated TIG applications.

The high TIG welder skill requirements, and the  low TIG weld deposition rates,  typically create the highest Weld Labor Costs.

The DC TIG process can often be "arc length sensitive," adding to the manual welder skills and as mentioned  making TIG  poorly suited as a semi-automated process. If used with automated welds that require filler metal, TIG will often require costly, automated 

arc length correction equipment

.

 
Carefully Examine the Traditional DCEN  TIG Weld and Plasma Functions.
For almost 65 years, on most manual welds,  the DCEN TIG process, has never been able to fully utilize the full energy potential of it's high temp. arc plasma, and this process rarely enabled  benefits from attainable from the Electrode Negative Polarity Conductivity capability. 
Examine the  typical DCEN  TIG weld as the large TIG weld wire is fed into the bottom portion of the plasma close to the weld pool.   When melting  the large  weld wire, as the wire gets close to the outer plasma the DC TIG plasma  is drawn slightly  to the tip of the wire.  And the small fluid weld  pool being generated is  in reality a "rapid freeze weld pool". The DC TIG weld pool energy, and rapid weld solidification times, not only effect weld fusion and porosity, it also influences the weld arc stability and arc  length sensitivity.  Take another close look at the above DC TIG plasma  influence on the base metal, the weld, and the wire melt.  
Three multi – functions of the traditional DCEN  TIG plasma and filler metal  reactions.

A portion of the traditional  DC TIG plasma energy is being used to maintain the weld fluidity behind the tungsten.

A portion of the plasma energy in front of the tungsten ensures the leading  edge of the weld pool has sufficient energy to fully melt

the molten filler wire.

An outer front  portion of the DC TIG plasma energy is used to melt the tip of an over sized weld wire. Note this is a weld wire that is typically twice the  diameter of a MIG wire. A wire size that has to be used, (discussed below). A weld wire size that actually restricts both the weld current  that can be used and weld deposition rate that could be attained.

Weld Supervisor, managers or engineers please note. The regular DC/AC TIG process, has for decades required  the highest welder skills. Your  TIG welders have to manually feed the weld wire, be aware of when to feed that wire. may be required sometimes  to aggressively  manipulate the torch, and sometimes at the same time operate a  foot amp control.  Also as a result of the TIG common arc length sensitivity,  and other TIG weld issues discussed in this section,  your regular  DC TIG process  has not been poorly suited  as a "manual Semi-automated" process, and often poorly suited as a Fully Automated  arc weld process on applications in which there would be concerns for tungsten to work, arc length variations.
Now take a close look below  at the semi-automated TIP TIG process. First examine the arc, plasma and the unique continuous  fed weld wire delivery features that will be discussed below.
There are numerous weld benefits derived from using the Semi or Automated TIP TIG process:

FOR SEVEN DECADES, TWO SEMI-AUTOMATED WELD PROCESSES WERE COMMONLY USED ON CODE QUALITY WELDS.
The two most utilized, Semi-automated arc weld processes used on Code welds, have been GMAW and the Gas Shielded Flux Cored process. With GMAW and flux cored, once the two simple weld parameters wire feed rate and weld voltage were set for the continuous fed weld wire, the welder would press the gun switch and then direct and guide the gun to where the weld was required. However the reality has been for seven decades, that in contrast to any of the 2020, available sophisticated pulsed MIG power sources with their wide variety of pulsed MIG weld transfer modes, or also with any available gas shielded flux cored weld wire, that in contrast, the higher weld energy DCEN TIG process, with it's inert gas protection, has often been the process to go to when the highest manual arc, code weld quality was desired.

In contrast to MIG and flux cored, from root to fill, when using the semi-automated TIP TIG process, the weld shop eliminates many of the individual manual DC TIG welder skills, and the continuous wire feed with TIP TIG, eliminates common concerns for the MIG – Flux Cored Wire Stick Out (WSO) variations, and the influence of the WSO on the weld energy produced.

SUPERIOR QUALITY – IMPROVED WELD UNIFORMITY – DRAMATIC INCREASE IN PRODUCTION, AND HIGHEST POSSIBLE MECHANICAL PROPERTIES SHOULD MAKE ANY MANAGER OR ENGINEER THAT'S AWAKE IN 2020, DROOL. With TIP TIG the weld wire is continuously directed into a unique plasma sweet spot that enables the highest possible plasma energy coverage of the weld. This in contrast to manual DC TIG, enables the weld ability to consistently attain superior weld quality that's more consistent and uniform, with increased GTAW weld productivity typically in the range of 200 to 400%. And lets not forget, with the increased TIP TIG weld travel rates and EN polarity, for the first time in arc weld history, the weld shop has a manual or automated arc process that should always attain the lowest distortion, the least weld / part stresses, and the highest possible welded part metallurgical properties.
TIP TIG, patented, Semi-automated Wire Feeder for either manual or automated arc welds. A brilliant mechanical action is the heart of the Austrian,TIP TIG, Plasch, Austria patent. No magic electronic bells and whistles or the usual exaggerated weld sales claims, just a simple, wire feed mechanical action that's delivered through the TIP TIG drive rolls.
2020 Note: Wikipedia and the majority of weld decision makers around the globe that I have followed that have been discussing the TIP TIG process, have for the last decade, an incorrect concept of the TIP TIG process, or have been providing incorrect descriptions of TIP TIG. As you are likely aware, in  pulsed MIG, Reverse Electrode Positive, the electrons travel from the negative metal across the arc plasma and collide with the gas molecules and deliver around 70% of the plasma energy  to the tip of the positive , continuous fed, MIG wire tip. An important note, the CV MIG welder can influence the weld transfer modes, short circ. globular or spray through changes to gas mixes utilized and the wire feed rate and volts.  With Pulsed MIG the power source can also influence the weld drop size, and the rate of weld  droplet detachment through the pulsed MIG parameters.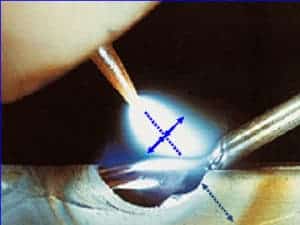 In contrast to the semi-automated pulsed MIG transfer,  both the  traditional  DCEN TIG, and  DC TIP TIG circuit have a completely opposite function. With DCEN TIP TIG and DCEN TIG, first arc temperatures are far greater than possible with a MIG arc. The TIP TIG electrons travel from the tip of the negative  tungsten to the positive ground. The electrons in the arc, apart from colliding and breaking the larger argon gas molecules for a high temperature plasma, provide the energy necessary to melt the  weld wires. While TIP TIG is a semi-automated weld process, in contrast to MIG,  most of the influence of the TIG power source is on the weld  rather than on the wire running into the weld. Adding a Hot Wire current in the TIP TIG wire speeds up the weld melt, and using pulsed and variable polarity will  also effect both the wire melt and weld.  
As the TIP TIG wire melts, it forms droplets on the continuous fed wire tip. The key question is, what can be done to enable those weld drops to detach in a rapid  manner before the continuous fed TIP TIG wire and drops make contact with the weld and disrupt the wire / weld transfer. The patented TIP TIG wire vibration, enables the weld droplets to detach and cross the arc. In contrast to DC TIG, the TIP TIG process allows much more weld wire to be deposited, which like a domino effect, enables more weld current to be used, and this influences both the plasma and weld?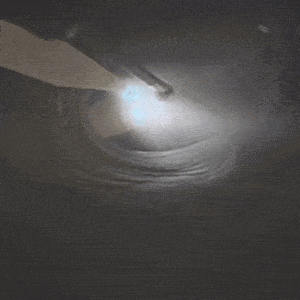 Thanks to the Austrian, patented, Plasch invention, the TIP TIG wire vibrates, and like a plucked guitar string it agitates the wire so as the continuous fed wire exits the copper tip, the wire agitation "encourages rapid weld droplet detachment" from the wire. The more weld wire that can be delivered into the plasma, and on average TIP TIG delivers approx. 200 to 400% more weld than is possible with any GTA weld, the higher the weld current that can be utilized for the welds. The use of Hot Wire current also slightly decreases the time required for the  molten welds drops to form. That  increased  weld  current influences the weld energy and also increases the TIP TIG arc plasma density and width. These attributes reduce arc length sensitivity enabling TIP TIG to also be an excellent automated process without the concerns for  arc length sensitivity, a common issues with GTA automation.
Since the 1940's, there has never been an arc weld process that provides the weld and part benefits that can be attained with either the manual or automated TIP TIG process.
UNIQUE ATTRIBUTES OF THE TIP TIG PROCESS
IN THE LAST DECADE, MANY OF THE WELD DECISION MAKERS  INFLUENCED BY A WELD SALESMEN, THOUGHT THE SOLUTION TO IMPROVING THEIR CODE QUALITY WELDS, WOULD EVENTUALLY COME FROM IMPROVEMENTS WITH THE PULSED MIG PROCESS. 

Many weld decision makers in this industry believed in the 21st century, that with the never ending electronic bells and whistles they see added to the semi-automated  Pulsed MIG process, that the Pulsed  MIG process would eventually provide the manual and also automated weld solutions to consistently enable  all position code quality welds that don't require weld rework.  The reality is just as a donkey can never be a race horse, the pulsed MIG process will never have the unique weld process characteristics that is necessary to  attain the weld quality and part metallurgical properties that can attained with the TIP TIG process.
In my role as both corporate Product and Training managers with Linde, Airgas, AGA, ABB and Liquid Carbonic. I have been evaluating Pulsed MIG equipment from all the major  GLOBAL Pulsed MIG mfgs. since the early 1980's. And in  the 1990's, in my 600 page book "A Management and Engineers Guide to MIG"  (training Resource Section) I wrote over a 100 pages on the issues with Pulsed MIG, and the reality in 2020, is most of my 1980s pulsed MIG  concerns are still relevant.
Note:  For those interested in the extensive weld issues generated with Pulsed MIG especially in robot cells,  you may wish to visit my MIG process / equipment sections at my  weldreality.com  site. or purchase one of my MIG weld process control self teach / training  programs,  also  visit  the TIP TIG versus  Pulsed MIG  section here.  
The weld shop should be aware that if  DC TIG, Pulsed  MIG and Gas Shield Flux Cored is not attaining a weld quality in which zero weld rework is produced, with TIP TIG it's easy to attain these weld results. The weld shop should also be aware with TIP TIG  there is no weld application size or part thickness limits.

 



TIP TIG Easier than MIG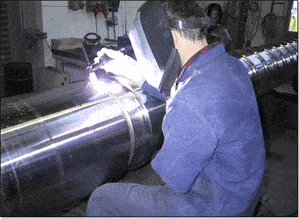 TIP TIG, no manual wire to feed. No  amp foot control required. Always superior control of arc starts – stops. No spatter. No fume concerns. No weld rework. Smallest weld HAZ.  Least stresses and distortion. Always highest metallurgical properties.  Yes it's an expensive  process but the weld cost savings from no rejects or rework along with the dramatic reductions in welder skills and increased TIG productivity and the cost is quickly justified.
REAL WORLD WELD BENEFITS FROM TIP TIG:  As with any costly equipment to be used in a weld shop, the TIP TIG process of course requires cost justification, and  it's logical that weld shops during a TIP TIG demonstration should want to see and measure the  improvements that will be  provided by TIP TIG; 
With a short training program. (see my low cost TIP TIG training / self teaching program), TIP TIG dramatically reduces all position welder skills, which enables increased  and more consistent, uniform weld quality.  In contrast to TIG – Pulsed MIG and Flux Cored, the TIP TIG skill reductions also reduce welder training times, and should influence lower welding costs.
TIP TIG dramatically improved the DC/AC TIG weld quality.  TIP TIG enables more weld current and produces a higher energy plasma with increased plasma coverage over the weld. Weld fusion is improved and weld porosity is decreased. The weld quality is further  improved from the TIP TIG consistent wire feed placement to the plasma sweet spot which enables the continuous, uniform melt of small weld drops that also provides  more weld fluidity than possible with  a  TIG  weld. In contrast to TIG, with TIP arc start – stops are dramatically reduced and their is less opportunity for tungsten contamination and tungsten melt.

TIP TIG enabling on average  200 – 400 % more weld than DC TIG,  enables increased weld current capability, and  faster weld speeds,  reducing  weld costs and greatly extending the weld application potential. Be aware that for 5G pipe welds the TIP TIG  manual  fill pass weld  speeds would be similar to pulsed MIG.

TIP TIG increased  welds speed capability with electrode negative polarity dramatically lowers the welded part heat,

which enabled superior welded part properties, and no concerns for carbide precipitation that affects corrosion, weld stresses, part distortion and weld fumes.

TIP TIG eliminates arc length sensitivity concerns,  making it suited to all manual semi-automated and  fully automated applications.
 TIP TIG provides the process changes that enable the following results on this stainless fillet. The video below,  is producing  a weld  with attributes that  no weld shop can produce when using  DC TIG or any Pulsed MIG process.
With  the  above TIP TIG stainless gauge  fillet weld, note the color, lack of oxidation, no spatter, and small  HAZ, lack of heat into the part. Note how the welder can hold the TIP TIG torch just like a MIG gun or like a TIG torch.  As with any semi-automated arc weld process, on parts with decent fit, no weld weaves or skipping techniques should be used when welding up  to 1/4  (7 mm)  fillet welds.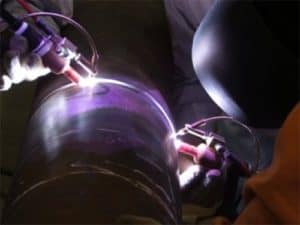 With TIP TIG, you have the best of both worlds, for groove or fillets, you can either rest the ceramic torch nozzle in a groove or on the plate, and  if you walk the cup which adds to the simplicity and control of all position welds. Or the welder can  hold the TIP TIG  torch and weld like  a MIG weld. 

Again take a moment with the above video to examine the untouched  stainless weld surface quality.  Carefully examine the  silver weld color, (lack of oxidation) attained that's a benefit of  EN polarity and increased weld speeds that result in the lowest possible weld heat input. Also then examine the weld fluidity continuity on the weld surface and toes,  that reflects on the high weld energy attained.  Note with the extremely small HAZ produced, a benefit weld shops can anticipate with  any stainless welds. The lowest distortion should always be attained. And with some stainless grades, with this process, anticipate the least opportunity for carbide precipitation. Also note the respectable weld speed attained, (as quick as MIG) , and in case anyone is interested also note in the video as well as the photo, no  visible stainless, carcinogenic weld fumes.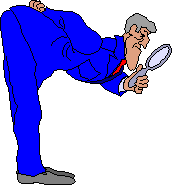 A MESSAGE TO THOSE NORTH AMERICAN AND EUROPEAN WELD – METALS CODE  / SPECIFICATION COMMITTEE MEMBERS THAT APPEAR TO BE  STUCK IN A COMA DURING THE LAST DECADE:  Of course it's appropriate that weld process information and  metal guidelines should be kept up to date by the major Code bodies such as ASME – AWS – API – ASTM – ABS – NAVSEA. Unfortunately these N.American Governing bodies and their engineer committee members  are in 2020, now ten years behind the capability of  a process such as TIP TIG.
TIP TIG will dramatically change the recommendations and guidelines  that have  been provided in the last seven decades. From my perspective, when it comes to comparing the common arc weld process's that account for most code welds,  GTAW  – FCAW and GMAW , the code providers are not aware that when TIP TIG is utilized, major changes will be enabled.For example;
Preheat, inter pass and post heat treatments are typically dramatically reduced or no longer required.
Weld groove preparation  dimension recommendations can be dramatically  reduced. For example from the typical Vee-grooves of 60 plus  degrees, to 40 to 50 degrees.
Costly NDT  weld inspection requirements should be reduced or elminated.
There will be less concern for HAZ changes, impact properties will dramatically increase.
There will be less concerns for cracks, stresses and distortion.
There should be minimal concern for Carbide Precipitation or other corrosion issues.

In clad welds, the  weld layers can be reduced as a result of less alloy loss.

Many Titanium  welds will not require trailing shields.
Yet all I have heard  since I introduced TIP TIG to N.America in 2009 is SILENCE. Which is again a reflection of where we are as an industry.
WHEN  TIP TIG IS BOUGHT INTO THE WELD SHOP AND WELDERS ARE PROVIDED WITH  MY 3 HOUR TRAINING PROGRAM, MANAGERS  SHOULD EXPECT THE FOLLOWING  BENEFITS?
 TIP TIG enable the best possible, manual all position, consistent weld fusion, with the lowest porosity, so informed plant engineers or mangers should expect NO WELD REJECTS OR REWORK on any code quality applications.

 TIP TIG provides optimum automated weld capability without arc length sensitivity,  so when automated welds are required, hook the  TIP TIG torch  to a robot, carriage or rotary positioner.

 TIP TIG is the easier  to use  than  the TIG – MIG – FCA process on all position code welds, and also enables the best possible root and fill weld quality. So on most  welds one process that's suited to any gauge, any thickness, or any size.

 TIP TIG produces code welds without spatter, and welds with the lowest oxidation that should not require grinding or cleaning.  

TIP TIG also enables the lowest possible weld fumes. If you weld any metals that have fumes or grinding dust that you don't want to subject your employees to, you now have a weld  process solution.

TIP  TIG always provides the lowest possible welded part heat input, the least distortion,  the lowest weld stresses, the best possible  mechanical and corrosion properties, and that applies to all metals.

TIP TIG enables the weld shop to use

only one

process,

one wire, one gas and one procedure for all code quality welds. If you are ready to expand the weld shop or start a new weld business that will be dealing with code quality welds, surely this is a  logical process to consider.

Take another moment with the close up of the TIP TIG arc and weld.
Note the vertical up, continuous

highest possible arc weld energy, from the increased DCEN current and  the full plasma coverage over the pool.

Note the excellent  weld fluidity, a fluidity that is not inhibited by the 

already small fluid weld drop additions to the weld.

Note the weld metal purity from the combination of high energy in an inert atmosphere.  Any experienced weld person would know simply by looking at this weld that the weld would  be defect free. 

This weld could not be duplicated with any Pulsed MIG or GTA weld.
Remember with any arc weld, the best possible weld results will come from a weld process that provides four prime functions;
 The weld is protected by an inert atmosphere.

The arc plasma  provides the highest  weld energy.

The polarity used enables a fast freeze weld making it easy to use for all positions.

The deposition (weld speeds) and polarity enable the lowest part heat input. Four simple requirements for all code welds on any metals.

TIP TIP ENABLES SIMILAR VERTICAL UP WELD SPEEDS TO PULSED MIG. TIP TIG typically delivers 200 to 400%  higher weld deposition rates than DC TIG, producing similar all position weld travel rates as  pulsed MIG. In contrast to traditional TIG, both the DCEN &  Variable Polarity (alum) TIP TIG process continuously feeds the commonly used 0.035 – 0.045 (1 – 1.2 mm) diameter weld wires into the TIP TIG plasma sweet spot.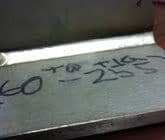 When  TIP TIG is  used  on clean applications such as this Super Duplex fillet weld, note the untouched  TIP TIG weld color which reveals lack of oxidation influence with the atmosphere. This is only possible with very low welded part heat input. With TIP TIG, weld shops should always anticipate the cleanest, defect free welds that produce  the smallest weld HAZ, and this  applies to most weld applications > 2 mm. Note try and replicate the fillet 1/4 weld shown on the left with either a duplex, stainless or inconel weld wire and the process of your choice. 
OPTIMUM WELD QUALITY & 

REDUCING  WELD COSTS,

SHOULD  BE OF INTEREST TO ANY GLOBAL WELD DECISION MAKER.


2019:   I am aware that  the technical weld process process details at this site may not get everyone as exited as I get when discussing TIP TIG  versus the AC/ DC TIG, Pulsed MIG, Flux Cored  and the automated Hot Wire TIG, however most weld shops do have a great interest in two subjects WELD QUALITY AND COSTS. 
With this in mind,  I will start  in the first following   paragraph discussing some of  the unique TIP TIG weld COST reasons that any company that is using DC TIG – MIG – Pulsed MIG or  Flux Cored  for  code quality welds on steels, alloy steels, alloys and also specific AC TIG & MIG  Aluminum applications, simply cannot afford to ignore.Please don't forget that weld costs are of course influenced by weld deposition rates, weld rejects,  weld rework, weld cleaning,  by the welder's skills, and by  additional material costs or material handling. 
Weld shops take note: The traditional arc weld processes such as  AC/DC TIG, Pulsed MIG, Flux Cored or the SMAW  process, require higher all position welder skills than required with TIP TIG.
As most in this business are  aware, when hiring TIG welders,
[] the slow weld speed cost consequences, [] the never ending weld start and stops , [] the many trips to the grinder to reshape the  tungsten,
[] along with the TIG welder skill requirements that change from one welder to another, all have a major  influence on both the TIG weld quality and  the hourly labor costs generated.
If you were stand in an aerospace plant and watch 5 TIG welders produce the same welded parts, and it will  be  their different manual welder skills and weld practices  that  will influence the lack of TIG weld continuity and the inconsistent weld quality too often attained,
THE FREQUENT TUNGSTEN CHANGES WITH TRADITIONAL DC TIG WELDS DO NOT OCCUR WITH TIP TIG :  
As mentioned, DC TIG welders have to place their weld wire in front of the weld in a very small, fast freeze weld pool and often that wire or weld pool will touch and contaminate the  tungsten, lowering  the tungsten melt temperature and changing its required profile. The welder will then stop welding and replace their tungsten and create another weld start / stop which are common weld defect locations. When large amounts of AC/DC TIG weld are required, those tungsten changes will be very frequent. In contrast, the TIP TIG wire is fed to the side of the TIP TIG arc plasma and therefore its more difficult for the TIP TIG weld to contaminate a TIP TIG tungsten. Once this process is learnt correctly and especially the unique the TIP TIG Best weld practices the welder  will likely have no more than one or two tungsten changes per shift.
SO LETS LOOK AT THINGS THAT INFLUENCE  WELD DEPARTMENT BUDGETS  WITH A CHANGE TO TIP TIG:
It would take me about an hour to prove the following statement. "In a weld shop that employs mostly  DC TIG welders, with a change to the TIP TIG process, that weld shop should anticipate at least a  65 to 75% annual weld labor cost cost reduction in their weld department budget.  As for those weld shops that utilize pulsed MIG or gas shielded flux cored on code quality weld applications, most of the weld shops will  budget for weld rejects or weld rework. In contrast, with TIP the weld shop  can  anticipate no weld rework. The TIP TIG  weld deposition and weld travel details that greatly influence weld costs are well documented at this site, however I want to get across both the the extensive weld costs savings potential and weld quality improvement  impact with a change from regular DC TIG to TIP TIG and this applies to any company that provides Code Quality steels, alloy steels,  alloys and also many aluminum weld  applications.
The following info. provides how I attained  an average of  70% hourly weld cost reduction from  a  DC TIG to TIP TIG change.
DC TIG TO DC TIP WELD COST REDUCTION: Lets take a Fortune 500, Aerospace corporation that has many global plants that employ manual DC TIG welders for code quality weld applications, call it PLANT  1.  This plants employs 10 DC TIG welders, five on each shift. The plant also employs two weld shop supervisors to manage the two shifts.  The Aerospace TIG welders earn $30 /hr, and  mostly weld steels and alloy steel code applications. This companies typical welder labor costs $60,000.00 / yr. The welders benefits are  $8,000 / yr. Also as TIG is such a slow process, overtime is the norm. The average overtime per-TIG welder was 10 hours a week at time and a half, 10 x  $45 hr = $450  x 50 weeks = ($22,500 / year). The  annual TOTAL weld labor costs for the aerospace company is $90,500.00 per/welder  x 10 welders. Also add two weld supervisors at $80,000 /yr,  with the supervisor combined annual salary of $160,000.yr. The total weld labor cots for this Aerospace  weld shop is $1,065,000. The TIG weld equipment  investment for the 10 welding  units, approx. $78,000.

COMPARE ABOVE PLANT 1 WITH WITH TIP TIG WELD LABOR COSTS IN PLANT 2:
Now for those still hanging in there, first thanks for your patience. The above aerospace company changes to TIP TIG. At PLANT 2,  instead of the 10 DC TIG welders, all this company would  now require to achieve the same weld production with superior weld quality , would be three TIP TIG welders and one supervisor working one ONE shift.  Three TIP TIG welders wage plus  benefits, 3 x $68,000 / yr = $204,000 / yr, plus one supervisor $80,000 / yr,  producing  a  yearly TIP TIG WELD LABOR costs of $292,000.  By the way with TIP TIG you would also reduce the annual argon TIG gas cost in the range of 50 to 70% , and also  take approx. 15 – 30% of the weld wire costs. The TIP TIG equipment costs depending on the power sources available in the shop would be in the range between  $50 to $80K. As you  you can see with the added weld consumable savings, its easy to anticipate  at  least an annual TIG labor cost savings of 70% would be anticipated.


The above annual DC TIP TIG weld shop wages total is

$292.000.

The annual DC TIG weld shop wage

$1,065.000

.

A  GTAW Weld Cost Question:  Em, as weld deposition rates are a large factor in weld shop costs, can you provide more detailed info. on the typical average weld deposition rate capability with manual  DCEN TIG welding?
Regular DC TIG Weld Cost Answer: 
Welding a 3/16 horizontal fillet, the DC TIG manual welder on average  would feed a common 3/32 steel or stainless TIG wire  into the weld  pool at approx. 8 inch minute, (20 cm/min). This wire feed rate delivers just less than 1 lb/hr with 60 minutes arc on time.  Lets say the average arc on time per/hr for a TIG welder may be around 20 minutes delivering approx. 0.3 lb/hr.
If  a TIG welder decided to try and feed a smaller 0.035 (1 mm) wire, with an 0.035 steel or stainless wire, the welder  would require that the  DC TIG welder continuously feed the 0.035  wire at around 70 inches per-min, (not going to happen with traditional TIG).
TIP TIG Weld Cost Answer: On the same weld, the TIP TIG welder would set  an 0.035  wire feed rate of around 150 inch/min, approx 2.2 lb/hr, As TIP TIG increases the arc on time to lets say 30 minutes per-hr the TIP TIG welder is depositing 1.1 lb/hr, so you can see with this conservative TIP TIG setting the TIP TIG welder is putting in 200% more weld and depending on the weld application, the TIP TIG process will readily provide a 300 plus percent increase in weld than is possible with the DC TIG welder.    



 I HOPE YOU ARE NOW ALL WELL AWARE  THAT TIP TIG IS UNTOUCHABLE FOR ALLOY WELDS, BUT WHAT ABOUT THE COST SAVINGS FOR A SIMPLE CARBON STEEL PIPES WELD APPLICATION?.
As reported by a TIP TIG user.  Our  customer ordered plain carbon steel pipe assemblies from the weld shop used in  heating system. This was a first time that they had used TIP TIG for any  welding application. The biggest pipe was 8 inch diam with a 1/4 wall. 
With regular DC TIG it took around 90 minutes to complete the pipe welds from root to cap and this was done with 3-4 passes depending from the welding position. With TIP TIG the same pipe welds with made two weld passes and in 30 minutes. As for the weld quality,  100 % x-ray was used on  the welds. With regular TIG this company would often find minor defects and with X-RAY evaluation pipe weld rework was common. In contrast with the  TIP TIG welds there was absolutely nothing shown on the X-rays. The X-ray were taken with digital equipment so they were able to zoom in and check everything very precisely. So the weld shop attained far better quality, extensive increased production,  and this was within the first two weeks of purchasing the TIP TIG equipment.
Note: Please keep in mind, that with all position code quality weld applications as in pipe and vessel plants will  also  employ Pulsed MIG welders. You may be surprised to know that the weld deposition rates for code quality  vertical up and over  head pulsed MIG welds are quite similar to the deposition rates attained by TIP TIG, however the pulsed MIG weld quality will be inferior with special concerns for the weld fusion, the weld heat, porosity and weld fume concerns. Of course for horizontal fillet welds the pulsed MIG process will enable dramatic deposition rate increase, but again with the quality, heat and fume concerns.
TIP TIG DRAMATICALLY REDUCES ALL POSITION WELDER SKILLS: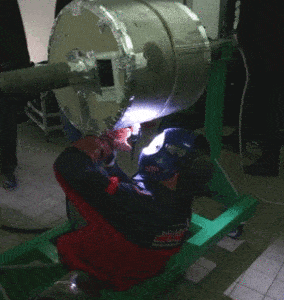 If the above was welded with DC TIG, the welder would  have one hand on the torch, the other hand to feed the wire, and maybe one foot on the amp control.
If the above was welded with pulsed MIG, apart from the inferior weld  quality especially with the sluggish stainless, the MIG welder would have to deal with weld fumes and spatter. 
With TIP TIG code quality all position welds,  and the rapid freeze characteristics influenced by the EN polarity, the weld pool is easy to control and the welder skills are dramatically reduced. Also one or two hands can be used to hold the TIP TIG torch  and the TIP TIG

 welder does not require a foot amp control.
 

Irrespective of a person's background, the TIP TIG process is easy to learn in a few days, that is if  the correct settings and best weld practices are taught, (available at this site). This is a process that will reduce the concerns for skilled welder shortages, and reducing welder skills  will affect weld labor costs.

Reducing welder skills also enables higher weld quality, especially when  the weld shop employs more than one welder and wishes to produce uniform, consistent optimum manual weld quality. 



Don't forget that the TIP TIG weld wire is continuously fed into the  plasma arc sweet spot. This wire feed feature, drives consistent, uniform weld melt that enables  consistent weld fusion, decreased weld porosity, and enables improved control of the weld travel rates.

I

n contrast to a manual DC TIG weld, typically no more that two weld settings are required for the weld wire diameter utilized. And

 TIP TIG weld arc starts and stop parameters are automatically controlled, to a weld quality level that will never be available with any TIG, Pulsed MIG or Flux Cored weld.

With TIG welds, there are often many weld arc start / stops influenced by the manual wire delivery that affect both weld quality and productivity, solution provided by  TIP TIG.

Instead of using DC TIG and then adding another weld process to complete the welds, such as TIG and Pulsed MIG, with the TIP TIG process, the weld shop requires one weld equipment package, one weld wire, one gas for any pipe root to fill,  or for any all position welds on any metals,  and on welds with any thickness. One process one skill set.

Of  course many welds don't require TIP TIG: If welds are made on parts in which "internal" code weld quality evaluation is not required, or on parts with mill scale, coatings and contaminates in the weld area, then MIG and flux cored would be a more appropriate weld process choices. However if they are not code quality welds and if weld spatter, weld cleaning or weld fumes is a concern, consider  TIP TIG.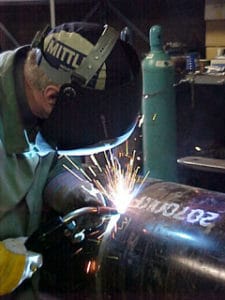 PIPE ROOT WELD OPTIONS: Three decades ago, I manged a pipe weld project,  training  Imperial Oil, (Exxon) union pipe welders,  Tar Sands Alberta Canada. Left, Ed checking the  MIG root weld issues generated with with different MIG weld transfer modes.
Imperial Oil was looking to create dramatic Nat Gas pipe line weld cost reductions, and I was contacted to first  train the "we love our SMAW weld process" sub-contractor, manual pipe welders on how in the 5G pipe position, for pipe root welds to use  the semi-automated Lincoln MIG STT process,  (in reality a simple low pulsed MIG mode), and also  the Miller RMD (reduced SC current)  process.  And  for their shop welded rotated pipe joints, teach the welders the process controls – best weld practices with  the conventional MIG Short Circuit mode.
After the 5G Exxon pipe welder root  training, I provided the same welders gas shielded flux cored process control – best practice, 5G pipe fill pass training.  At that time, the Oil & Nat Gas industry did not have an extraordinary pipe weld process such as TIP TIG which was all they would have required for root and fill passes. And its perhaps a reflection of the general weld engineering apathy found in the Oil – Nat Gas industry, that in 2020,  ten years after I introduced TIP TIG to N.America and Australia,  that most weld engineers  and relevant managers in this industry, still know little about  the TIP TIG process. 
On a pipe projects like the above, if  the welders used TIP TIG, they would have;
only required one weld process for all root and fill passes,

only required one gas, 

only required one weld wire, 

only required one weld procedure with two simple weld settings.

have had the ability for zero weld rework.

would have attained the highest possible impact properties, a necessary requirement for Alberta.

WELD REALITY: The most popular Semi-automated MIG process for Pipe Root Welds is  MIG.  First it was MIG Short Circuit, followed by MIG STT and MIG RMD, for the root, and then another process  such as flux cored or pulsed MIG for the fill passes. The reality is no other arc weld process can  compete with TIP TIG in terms of capability and quality on  code quality welds.



MIG STT Left – MIG RMD right. Both attaining acceptable 5G root, vert down weld results.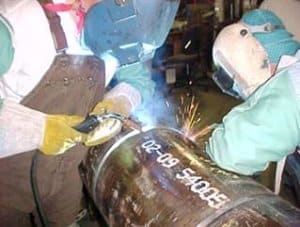 Ed Training Exxon / Imperial Oil pipe welders on the different MIG weld transfer modes available to weld Nat Gas Pipe.  Pipe weld shops need to be aware that when they use MIG Short Circuit for rotated pipe root welds, or use MIG STT or MIG RMD for the all position  pipe root welds, in contrast to TIP TIG they are using  inferior arc weld processes that  are not only sensitive to wire stick variations, but also sensitive to root weld gap and root alignment variations. That sensitivity is not  part of the TIP TIG process 
Pipe, plate, vessel,  valve, tank welds when the best possible weld quality is required, from the root welds to the fill passes, TIP TIG would always  provide all position fill weld passes with superior mechanical or corrosion weld / part properties, and all the QA department would have to do is document the passed welds.
What about Gas Shielded Flux Cored Welds? There are many reasons why an experienced  weld engineer should be nervous about allowing  gas shielded flux cored welds on code quality applications in which the internal quality of each weld is closely evaluated. And there are many reasons why the weld shop should not be surprised on any code quality all position welds, when the flux  cored welds that are  made by a  highly skilled welders looks like this.

The Gas Shielded E71T-1 Flux Cored process does not need a welder to be responsible for  generating weld defects.

If you are aware of the weld process controls and best weld practices associated with  Gas Shielded Flux Cored, (as taught in my programs), you would know what was the prime cause of the common issue. 
With code quality welds, and  the traditional arc weld processes,  such as flux cored, pulsed MIG and SMAW, there are many reasons beyond the welders control, why  managers, engineers and supervisors cannot get a good nights sleep.
MOST EXCELLENT  LOOKING MIG FILLET WELDS, IF MACRO EXAMINED, WOULD REVEAL  MARGINAL  SIDE WALL WELD FUSION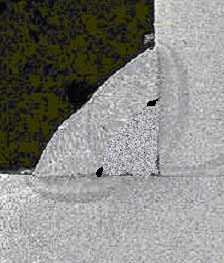 What makes TIP TIG a superior weld process than Pulsed MIG or Gas Shielded  flux cored for vertical up and over head welds?
An easy way to explain why the Reverse Polarity  MIG and  Gas Shielded Flux Cored process will often leave  welds with lack of weld fusion, especially with vertical up and overhead welds on parts > 5 mm  thick.  Both MIG and gas shielded flux cored  arc temperatures are almost 50% of a DC TIG weld. And  with the Reverse Electrode Positive MIG and flux cored welds in which most of the arc energy plasma  is used to melt the continuous  fed weld wires, they simply do not have the required weld energy for the welds the weld mass delivered, and the weld deposition rates  delivered that influence the weld travel speeds generated which influence the weld solidification rates. The bottom line is MIG and flux cored cannot generate the weld fluidity that's created by a DC Electrode Negative TIP TIG weld. 
As for weld purity which influences weld porosity and oxidation buildup, both MIG and flux cored use reactive gases such as CO2 and Oxygen which  add to the weld porosity formation. And when  gas shielded Flux Cored is selected for code applications weld shops should be aware that with this process,  there can never be a guarantee of not getting trapped weld slag, worm tracks  influenced by moisture  and excess porosity.  When you add the common weld defects found with flux cored or MIG, along with the concentrated weld heat around the weld wire tip influenced by reverse polarity,  you will have questionable weld quality results and also welds that have large weld heat affected zones. Therefore, when it comes to code welds, the semi-automated MIG and flux cored weld processes simply  cannot compete with the semi-automated TIP TIG process.
Note:  Be aware that the typical  increase in weld deposition rates that are attained from TIP TIG,  the weld shop, typically will provide all position  TIP TIG  travel rates that are similar to those attained with pulsed MIG process. |
FOR THOSE MOSTLY IN EUROPE, PLEASE NOTE THERE IS ENOUGH WELD PROCESS CONFUSION AROUND THE GLOBE. TIP TIG IS NOT A HOT WIRE PROCESS, OR A PROCESS PRIMARILY INFLUENCED BY AN AGITATED WELD.
Simple solutions are often the most effective inventions. It took almost 70 years before an Austrian engineer called Plasch, figured out the solution to make traditional TIG into an easy to use  "semi-automated" or "automated" TIG process. It was an invention that got me so excited when I first saw it in Europe, in 2008, that when I should have been thinking about retirement, I bought this process to N. America and then with my business partner Tom O'Malley we  introduced it to Australia.
The continuous  fed  TIP TIG weld wire is fed through a set of "patented wire feed drive rolls", that through a mechanical action, the rolls go back and forth with rapid velocity. The drive roll action on the weld wire creates a continuous wire vibration, that when viewed, is similar to a plucked guitar string.  The  wire vibration enables rapid detachment of  the agitated, fluid weld drop formed on the weld wire tip.
 The TIP TIG process also utilizes a small HOT wire  power source in which typically 80 to  120 amps is used solely to preheats the weld wire. This preheat decreases  the time required for the wire to melt as it approaches the plasma. The patented TIP TIG wire feed, in combination with a suitable  300 to 500 amp DC or AC/DC TIG Power Source,  plus the unique TIP TIG Torch and  Hot Wire power source  provide the TIP TIG process that enables; 
So what does the TIP TIG Equipment enable for the Weld Shop?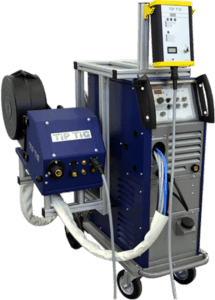 TIP TIG enables the use of  common MIG wire diameters to be used, 0.035 and 0.045 most utilized. 

TIP TIG enables 200 to 400%  more weld each hour than  TIG.

The hot wire power source preheats  the  TIP TIG weld wire (same as Hot Wire TIG) which reduces the energy required to melt the wire tip.

The continuous fed weld  TIP TIG wire is delivered to different plasma position that allows all of the plasma energy to cover  the weld surface.

TIP TIG creates a weld wire vibration that

agitates the weld drops

  enabling  rapid weld drop transfer.

The small TIP TIG weld drops are fluid before entering the weld.

The size of the small weld drops and the weld drop to plasma position reduces the chance of the drops and weld contaminating with the tungsten. 

The  weld  droplet agitation also creates

a very slight agitation of the weld

which in some cases can enables a slight increase  in the weld solidification time. 

The increased weld wire deposition rates, enables  increased weld current which further adds plasma energy to weld.

The faster TIP TIG  weld speeds with the   Electrode Negative Polarity rapid weld  heat conductivity into the part enables dramatic  reductions in welded part heat, to a level never attained with any manual arc processes.

The increased and uninterrupted TIP TIG plasma energy that creates a plasma that is  more dense and wider than a TIG plasma enables improved electron transfer that decreases  arc length sensitivity benefiting manual welds and enabling TIP TIG to be used with any automated equipment without purchasing automated arc length adjustment equipment.

And for those weld shops thinking about purchasing exhaust equipment, they may want to reconsider if they use a weld process in which on clean metals it;s difficult to see the weld fumes.

What happens with no wire vibration?  Without the  wire vibration,  you have a Hot Wire Feed unit and you could not place the wire in the  plasma position enabled by TIP TIG, a position that enables full plasma coverage over the weld. Without the wire vibration, the weld drops could grow larger in size, be more erratic,  or detach at an irregular rate that would  disrupt the weld. 

And for those individuals that call TIP TIG a Hot Wire process, the Hot Wire process has been available for many decades. and the bottom line is this. The Hot Wire process is suited to automated TIG welds and not capable of producing the manual,  semi-automated welds produced by TIP TIG.
Anyone who welds alloys this thick should ask why is this 6 mm 316 stainless fillet weld gold in color?

THE IMPORTANCE OF PRODUCING THE LOWEST POSSIBLE WELD JOULES:The worlds most widely used arc weld processes, MIG and Gas Shielded Flux Cored use Reverse Polarity with Electrode Positive. This is a polarity that concentrates the majority of the weld plasma heat in the upper portion of the plasma, around the continuous fed weld wire tip. This concentrates the energy in the upper portion of the plasma and this energy concentration can create large weld heat affected zones.
For almost 75 years, the traditional DC Electrode Negative TIG process which directs the majority of the TIG arc plasma energy towards the positive, large conductive mass of the parts welded has rarely been able to benefit from the DCEN weld polarity. The reason is that on most TIG welds for the high weld heat generated is simple, traditional DC TIG welds on most parts > 2 mm, typically generates very low weld deposition rates and very slow weld speeds that help retain the part heat.
Perhaps someone could inform the Aerospace, Defense, Power and Oil company managers and engineers, that since 2010, there is less concern for the negative influence of welded heat on alloys and high strength steels and aluminum, thanks to TIP TIG, a process that dramatically reduces the weld joules.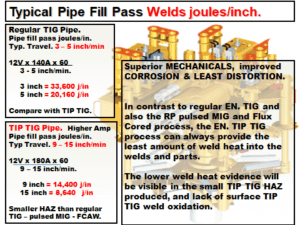 From a chart I made with my TIP TIG training program. Compare the heat input your weld shops are using when they weld. Impact properties, ductility, cracking sensitivity, elasticity, fatigue, hardness, malleability, toughness, yield and corrosion properties. All metals including aluminum benefit from a weld process, that puts in the lowest welded part heat input, provides the widest possible welded joules range and the highest possible weld quality.
Note; Its one thing to change the weld dynamics of an arc weld process and create a unique TIG / MIG like process like Plasch did, and its another thing to eliminate the extensive arc weld process confusion that will likely prevail around the TIP TIG process for many years to come throughout the global weld industry. Its also another thing to have the process expertise to evaluate the often subtle arc, plasma and weld transfer characteristics, along with the practical weld application benefits attained with a process such as TIP TIG and how it competes on code weld application against DC/AC GTAW, Pulsed MIG and the Flux Cored arc weld process. This is what I do.
Note: Please be aware my MIG Process Controls – Best Practice self teach and training program simplified the MIG process into an easy to learn "Clock Method" that delivers optimum settings and best weld practices for any CV – Pulsed MIG, manual or Robot applications.
Em's Manual & Robot MIG – Flux Cored & TIP TIG Weld Process Controls – Best Weld Practice, Self Teach – Training Programs.

SURELY THE EXPERTISE OF THOSE THAT PROVIDE WELD PROCESS ADVICE IS RELEVANT TO A COMPANY THAT PRIDES ITSELF ON ITS WELD PROCESS EXPERTISE : In this business when someone gives weld advice, it's beneficial to know the background of the person providing that advice. I have written three books on Manual – Robot MIG – Flux Cored – Weld Process Controls – Best Weld Practices. I wrote the MIG – TIG – Flux Cored and Laser sections in the USA Machinery Handbook. I wrote the Laser – Plasma – Oxy Fuel (Thermal Sections) in American Society Metals Book. Ninth Edition. I had 35 articles published on Weld Process Controls. I was a key member that wrote the AWS MIG Gas Specifications. I have four weld patents and along the way I provided weld advice for the Mar's Orion Spacecraft. I was the Weld Manager in a ship yard and the Robot Weld Manager for ABB North America. I was a GE Black Corporate Belt Weld Engineer, and along the way I assisted approx. 1000 companies in 13 countries with their manual, automated and robot weld issues.
Thanks Darren. Around 2009, during a visit to England to assist a weld client with their sub-sea Hot Wire TIG valve weld issues, I was discussing the Hot Wire limitations when I heard about an exiting new TIG process. I eventually located the unique TIP TIG process at a rural facility in Scotland, and thanks to a young man called Darren Matherson, I was invited to his facility. Watching Darren use the TIP TIG process weld 1/4 (6 mm) stainless parts, it took me no more than 10 minutes to figure out the importance of this process especially for those that do code quality welds in North America and as I had a son in Australia land i also got the rights to introduce it there.
Note: I would appreciate if you want to reprint any of the unique data that's written at this site. that when you copy the data and print it, you add before the data that "the source of this data is Emily Craig tiptigwelding.com" And if you want weld personnel to use the best weld practices and quickly attain the maximum process potential, "without playing around" with the weld controls from TIP TIG, or the Manual & Robot MIG – and Flux Cored processes, please consider my weld process controls – best weld practice self teaching / training programs.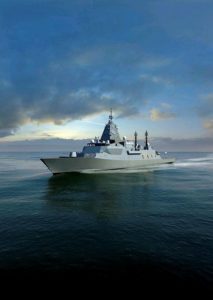 INEXPERIENCED WELD MANAGEMENT: So why do I waste my breath on criticizing  weld shop management, and also criticize N.American  Navy and Ship yard management?  Well  as for the US and Canadian Navy, I  was a taxpayer. And the last place I want to see hundreds of millions of tax dollars spent annually on unnecessary weld rework and poor weld productivity.  Second, I used to take pride in N. American engineering capability,  and the reality  in 2020,  while  the US Navy will spend billions of dollars annually on complex engineered applications, yet when it comes to  "welding," it's obvious that with the Navy weld and fabrication managers, along with their Fortune 500 defense contractors,  there appears to be a general lack of weld process Ownership capability, along with a lack of weld process controls and best weld practice expertise  that's necessary for  weld quality / productivity optimization, especially with the semi-automated arc weld processes.
WHILE ITS BEEN MY POINT OF VIEW SINCE THE 1980s , RECENTLY THE ASSISTANT SECRETARY OF THE NAVY PROVIDED HIS CONCERNS ABOUT COSTLY WELD AND FABRICATION ISSUES, HOWEVER MOST OF HIS DEFENSE CONTRACTORS SIMPLY DON'T KNOW HOW TO RESPOND
For those not interested in my opinions, or  my focus on the general  lack of weld best practices and process controls expertise in Defense and Aerospace companies, they may however want to be aware of the the words of  a Mr. Geurts, the Assistant Secretary  for Research, Development and Acquisition for the US Navy.  Mr. Geurts  is responsible for spending approx.  205 billion dollars in 2020. Mr. Geurts spoke at a Defense One Tech Summit. The following is not word for word, but almost.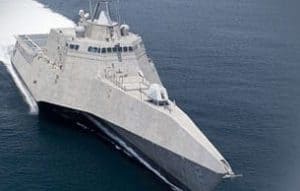 Mr Geurts states, "the US Navy can't build our future planned fleet and attain the 355-ship fleet goal required by our national strategy, unless it finds ways to dramatically reduce both the ships and submarine build and repair costs".  He continues. Today in North America, when we look at our general lack of industry and Navy management & engineering Process Ownership, we need to go way beyond labor costs as the root cause of our  weld / fabrication demise. Perhaps we also should spend a little more effort to examine our Engineering, Fabrication Process Expertise. 
Response from Em.  What Mr. Geurts  stated above in  2019,  is what I have been saying  in my articles, web site, books,work shops and also with my MIG – Flux Cored weld process control training resources for at least  30 years. Of course I love his frank logical engineering message,  but also  I hope Mr. Geurts recognizes that one the most resistant organizations  in the industrial world that is resistant to weld process change would likely to be the NAVY, and perhaps the Navy could lead by example. 



WITH DEFENSE CONTRACTORS, THERE IS ALWAYS HOPE.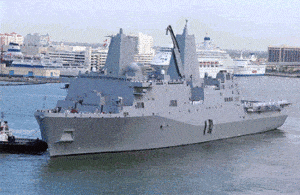 A 2016. E-Mail to me from a foreman at General Dynamics, NASSCO (Electric Boat) shipbuilding.   Dear Emily.  Having instituted your Weld Process Control – Best Weld Practice Flux Cored and MIG training programs at our NASSCO GD facility, I wanted to let you know the following results. At this location we are recovering from extensive, costly weld performance by our  NAVSEA qualified weld personnel on a major, US Navy CVN contract. I was hired in the middle of this contract and unfortunately, like many naval yards there was endless weld problems.  I implemented your flux cored training program and we have greatly reduced our flux cored weld problems. With your MIG & flux cored process control programs, we finally were able to understand that our "NAVSEA approved weld procedures were not optimum",  we were recommending  very low MIG – Flux Cored weld parameters (outside your optimum minimum recommended range).  We are now using your recommended weld parameters and practices and are now engaged in changing both our flux cored and MIG weld procedures also to your recommendations.  Regards and thanks again.  Foreman  NASSCO.

Remember as you read about TIP TIG at this site, that  I made this process  available in the USA and Canada in 2009. And ironically I started the TIP TIG bushiness in a building in the middle of the Philadelphia Naval Yard surrounded by Navy key decision makers who when invited to my Flux Cored or TIP TIG work shops showed no interest in what was going on less than a hundred yards from their offices.  
INEXPERIENCED WELD MANAGEMENT: So why do I waste my breath on criticizing  welds shop and also US Navy ship yard management?  Well  as for the US Navy, I  am a taxpayer,  and the last place I want to see hundreds of millions of my taxes spent annually on unnecessary weld rework and poor weld productivity.  Second, I used to take pride in American engineering capability,  and the reality  in 2020,  while  the Navy will spend billions of dollars annually on complex engineered applications, and  yet when it comes to  "welding," it's obvious that with the Navy weld and fabrication managers, along with their Fortune 500 defense contractors,  there appears to be a general lack of weld process Ownership capability, along with a lack of weld process controls and best weld practice expertise  that's necessary for  weld quality / productivity optimization, especially with the semi-automated arc weld processes.
INEXPERIENCED WELD MANAGEMENT: So why do I waste my breath on criticizing  welds shop and also US Navy ship yard management?  Well  as for the US Navy, I  am a taxpayer,  and the last place I want to see hundreds of millions of my taxes spent annually on unnecessary weld rework and poor weld productivity.  Second, I used to take pride in American engineering capability,  and the reality  in 2020,  while  the Navy will spend billions of dollars annually on complex engineered applications, and  yet when it comes to  "welding," it's obvious that with the Navy weld and fabrication managers, along with their Fortune 500 defense contractors,  there appears to be a general lack of weld process Ownership capability, along with a lack of weld process controls and best weld practice expertise  that's necessary for  weld quality / productivity optimization, especially with the semi-automated arc weld processes.