All Metals Benefit From TIP TIG Welds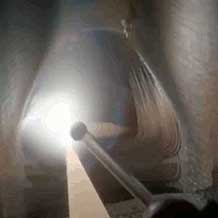 Written by Em Craig. For 70 years, the weld industry has never had an arc weld process that deals with all the issues that result from the traditional arc weld processes, (issues not caused by welders) that can occur with manual and automated code quality welds. Compare the arc weld processes used in your weld shop with the TIP TIG features, that will benefit all metals;

NO MATTER WHAT THE METAL WELDED IS, THE PRIME PURPOSE OF THAT WELD IS TO ATTAIN CONSISTENT WELD FUSION:
IN CONTRAST TO THE SEMI-AUTOMATED MIG, AND GAS SHIELDED FLUX CORED, THE TIP TIG PROCESS PROVIDES HIGHER WELD ENERGY THAT BENEFITS ALL WELDS: TIP TIG is the only manual,  Semi-automated arc weld process available that allows the welder to Set the Desired Weld Current for the Fixed Continuous Wire Feed Rate. With MIG and gas shielded flux cored, it's the slope out put of the traditional CV MIG power source that determines the weld current provided. For example, if  I was to use a CV MIG power source with an 0.035 ( 1 mm) MIG wire set at 250 inch, that wire feed  rate would typically draw around

160 – 170 amps

. In contrast, with a TIP TIG weld that enables a far greater arc temperature, again using an 0.035 (1 mm) wire, that's fed set at 250 inch/min, the TIP TIG weld could readily be produced  with

200 to 350 amps

. Weld shops should also be aware that the TIP TIG always enables a  superior ratio of arc energy produced, to the weld metal deposited. TIP TIG will always enable welds with the best possible weld fusion capability.


 

TIP TIG HAS THE POTENTIAL TO ALWAYS  PRODUCE SUPERIOR WELD FUSION THAN DC/AC TIG: So every weld shop is aware that the highest steel and alloy weld quality is attained with DC TIG.  In contrast to DC/AC TIG, the TIP TIG process enables more deposition which enables greater weld current to be used. Also the unique TIP TIG wire to plasma delivery enables the full TIP TIG arc plasma coverage over a weld  surface. This adds to the weld 

energy (fluidity) and also the plasma width. These process attributes enable superior weld fusion capability with all metals, energy levels that will especially benefit sluggish metals such as stainless, duplex, inconels  and other alloys, enabling the best possible weld fusion with also the lowest weld porosity.

 

TIP TIG DCEN POLARITY WITH THE SEMI-AUTOMATED WIRE FEED,  BENEFITS ALL METALS. While MIG Short Circuit, Spray, Pulsed MIG and Gas Shielded Flux Cored use Reverse Polarity in which the majority of the arc energy is  maintained in the arc plasma at the tip of the continuous  fed weld wire. The semi-automated  TIP TIG process when used on all metals except aluminum, will use Straight (EN) Polarity. This polarity, enables rapid weld heat conductivity into the parts and this conductivity is further enhanced with the increased TIP TIG weld speeds. This capability which can reduce the weld joules by 30 – 60% can be especially beneficial from the welded part metallurgical perspective. And the high energy yet rapid freeze welds influence by the polarity enable remarkable all position weld attributes.

So with any metals in contrast to your MIG – FCAW or slow moving TIG welds expect with TIP TIG to generate welds with the highest mechanical and corrosion properties, and the least distortion or weld stresses.  The low weld  joules capability is what enables Titanium to be welded without a gas trail shield.

 

TIP TIG IS THE ONLY SEMI-AUTOMATED ARC WELD PROCESS  THAT MAKES WELDS WITH AN INERT GAS. When the weld shop uses the semi-automated MIG and gas shielded flux cored process, the metals welded will be influenced by the REACTIVE  CO2 or Oxygen in the gas mixes which stabilize the arcs and can add energy.  In contrast, the semi-automated TIP TIG process uses inert argon and does not require gas mixes such as argon / helium. With the TIP TIG highest possible weld energy and welds made in an inert atmosphere, weld shops should expect on any metals that TIP TIG will always produce the cleanest possible welds that have the lowest weld porosity.
 
TIP TIG THE WELD BENEFITS ARE MANY, With TIP TIG, no weld spatter, no brushing or grinding. Reduced  vee groove dimensions is enabled.  Inter pass, pre-heat, post heat requirements can be reduced or eliminated.  One easy to use, semi-automated or fully automated weld process that benefits all metals

.




Note: The TIP TIG welder on the right is welding duplex fabrications used in ship construction. The weld benefits on  this large duplex application are many and are discussed. However note the welder is using a weld shield that is supplying fresh air. To avoid the chrome concerns this company required welders to use these weld shields when using MIG and Gas Shielded Flux Cored. However as you can see, the duplex weld  fumes are hardly visible with TIP TIG.
NOTE THE WELD BENEFITS MENTIONED HERE APPLY TO ALL METALS. TO FIND THE UNIQUE DIFFERENCES BETWEEN TIP TIG - PULSED MIG - GTAW AND HOT WIRE TIG, VISIT THE WELDING PROCESS SECTION.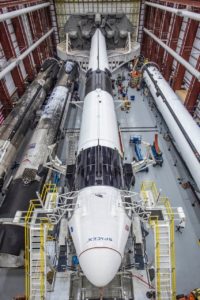 FROM EM…MANAGERS AND ENGINEERS AND SUPERVISORS THAT MAKE WELD DECISIONS AND DON'T UNDERSTAND WELD PROCESS CONTROLS & BEST WELD PRACTICE BENEFITS, ARE LIKELY IN THE WRONG PROFESSION.
WITHOUT THE TIP TIG PROCESS, IT'S UNLIKELY THAT SPACEX WOULD HAVE BEEN ABLE TO PRODUCE THE FALCON 9, STAINLESS, REUSABLE, ROCKET FUEL TANKS THAT WERE USED TO LIFT THE DRAGON, MANNED SPACECRAFT, ON THE START OF IT'S HISTORIC 2020 JOURNEY TO THE SPACE STATION, AND LATER LIKELY TO JOURNEY TO THE MOON AND MARS.
HOW IMPORTANT HAS THE TIP TIG WELD PROCESS BEEN FOR SPACEX? AFTER YEARS OF POOR SPACEX WELD QUALITY RESULTS ON THE SIMPLE ROCKET FUEL TANKS, BY THE WAY WELD QUALITY THAT WAS NOT A REFLECTION OF THE SPACEX WORK FORCE, BUT A CLEAR INDICATION OF POOR SPACEX WELD / ENGINEERING MANAGEMENT.
TIP TIG TURNED THINGS AROUND FOR SPACEX, AND THE TIP TIG WELD QUALITY / LOW WELDED PART HEAT and productivity CAPABILITY, MADE IT POSSIBLE FOR SPACEX TO ACHIEVE THE REQUIRED, NASA, DESTRUCTIVE ROCKET TESTS. IF SPACEX HAD NOT ATTAINED THE REQUIRED WELD AND MECHANICAL PROPERTIES, IT'S LIKELY THAT THEY WOULD NOT HAVE RECEIVED CRITICAL FUNDS, FROM NASA, AND INSTEAD MAY HAVE GONE BANKRUPT.

All METALS BENEFIT from TIP TIG. This unique semi-automated or automated arc weld process is capable of providing both the highest, manual or automated arc weld energy, with the lowest welded part heat input. For more than 60 years, no other arc weld process provided the these two important weld process attributes. Give some thought to what this means and give some thought to why most weld shops are oblivious to this 10 year old process. No weld rework. No grinding. Always attaining the highest possible mechanical and corrosion properties. No concerns with austenitic stainless for corrosion issues that result with carbide precipitation. And what about the elimination of distortion and weld stresses concerns?
All METALS BENEFIT with TIP TIG, as it's the only semi-automated weld process the enables welds that are highly fluid, yet also have rapid freeze weld characteristics. This combination creates the easiest to use manual arc process with any all position welds.
All METALS BENEFIT when the welds are made as with TIP TIG. When using an Inert gas on welds that have high weld fluidity, and welds that have slight puddle agitation, this enables welds with the lowest weld oxidation with the lowest weld porosity.
All WELD APPLICATIONS BENEFIT with TIP as you will note in the photos and videos , with TIP TIG there typically will be no weld cleaning, no spatter or weld fume concerns. And on clean stainless, duplex or Inconel parts, the lowest Hex Chrome weld fumes will result with any semi-automated or automated TIP TIG welds.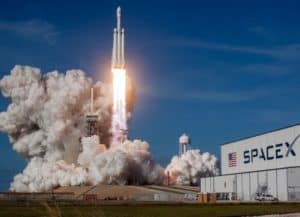 THAT LACK OF SEMI-AUTOMATED WELD PROCESS CONTROL EXPERTISE EXPERIENCED BY SPACEX < 2020, IS IN REALITY, COMMON IN THE FRONT OFFICES OF MOST AEROSPACE, POWER, OIL AND DEFENSE COMPANIES.
As you read my comments about the front office induced stainless weld issues at SpaceX. And you also read the weld problems in the same time period that Elon was having at Tesla with his robot welds on common metals, we come to another problem that's common in the global high tech. industries. And the first issue is, that it's not likely, that Elon or his managers and engineers would recognize the relationship between the numerous arc weld problems generated daily on the Tesla cars, and extensive, costly arc weld problems generated on rockets at his other company SpaceX.

Mr. Musk is an engineer, and is no different from the numerous, global, front office engineers and also managers that are supposed to be responsible for the weld process ownership, yet in reality, lack the required weld process controls expertise that's necessary. It's therefore logical that these same individuals will not be aware of the importance of this expertise, and therefore won't demand it from those they employ to also be responsible for the welds. To be fair Weld Process Controls – Best Weld Practices are topics which are not recognized or understood at most of the global universities and colleges that provide mechanical and weld engineering degrees. However they are topics that any weld professional should embrace. This expertise is available in my self teaching / training resources at this site and at my www.weldreality.com web site.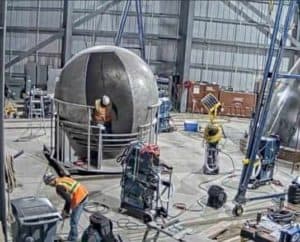 IT TOOK TEN YEARS FOR SPACEX TO FIGURE OUT WHAT SHOULD HAVE TAKEN AN EXPERIENCED WELD ENGINEER TEN MINUTES. Note the TIP TIG blue weld units at SpaceX. After many costly rocket failures, SpaceX did eventually turn to the TIP TIG process late 2019 or early 2020. This unique process quickly enabled this company to meet the NASA weld and base metal requirements. However, from my perspective, the weld irony is this.
At a TIP TIG workshop that I presented in Philadelphia around 2009, SpaceX engineers were present, and I both presented and demonstrated all the TIP TIG weld / part metallurgical benefits that could be attained, especially the benefits possible on all stainless grades. It simply frustrates me, that it then took this impressive Aerospace company about ten years to figure out the TIP TIG weld and part benefits, that I figured out during a ten minute demonstration that I viewed in Scotland around 2008.

By the way Elon, you appear to be one of those individuals that likes to be involved and in control of every part of the processes that build your rockets. Lets face it, you are the Star Ship Captain, and with this in mind, I address my comments to you knowing that you like many engineers are not likely to ever visit a welding web site like this. If by chance you were directed here, you may not like my comments about you and your companies lack of weld process ownership capability, however as I mentioned. the reality is that throughout the Aerospace and Defense industries, this lack of weld process control expertise is the norm. And by the way Elon, I do deserve your thanks, and a Tesla car or a Hall Mark Card would be appreciated. The reason. I established the TIP TIG process in the USA around 2009. My business partner Tom and I started TIP TIG USA, and with time, extensive difficulty and costs that neither of us could afford, we got this process established into an industry which is typically highly resistant to weld process change.
A MESSAGE OF CONGRATULATIONS TO SPACEX. Elon your 2020 manned flight was a magnificent site to behold and a great success. However, if I may offer one more piece of free weld advice. I would suggest that when you hire someone at Spacex to manage and supervise welding and fabrication, that you for look for someone with at least 20 years of weld shop floor, someone who has a resume that mentions weld process controls and best weld practices, someone who can train the workforce in the requirements for process optimization, someone with a diverse process and fabrication experience, rather than on focusing on what school they graduated from.
Every industry that welds gauge stainless or for that matter any metals, should with a video like this really get exited. When your weld shop makes a stainless weld like this, will the welder produce a weld with, no Oxidation, no Distortion, no weld Fumes, no Cleaning, no spatter, with a high weld speed?
THE WELD BENEFITS BEING ATTAINED ON THIS STAINLESS GAUGE FILLET WELD WOULD  NOT POSSIBLE IF THE WELD SHOP USES PULSED MIG OR TIG.
As you watch the weld energy generated on this low amp weld, remember that most stainless, Inconel and Duplex and other alloys tend to produce sluggish welds, which reduce weld fusion capability and add to weld porosity potential. Take a look at the weld speed attained along this 15 inch sample.
Aluminum TIP TIG Welds
As every designer of aluminum welded parts is aware, weld heat can dramatically reduce the strength of aluminum parts, and also aluminum welds are highly sensitive to the formation of porosity. With TIP TIG set TIP TIG at Variable Polarity with 80 - 85% EN polarity. If available, you can provide the pulsed features if beneficial for the thickness welded. A TIP TIG high energy VP weld will minimize the opportunity for the common aluminum porosity. The mostly EN polarity will also produce welds with the lowest possible welded part heat that has the potential to provide aluminum welded part strength beyond that possible with slow-moving AC TIG process or the Reverse Polarity Pulsed MIG process. TIP TIG will, in contrast to TIG, provide 200 to 400% more weld each hour, will be easier to use, and always produce superior weld quality than TIG and pulsed MIG. TIP TIG is also readily adapted to weld automation. Note: With your TIP TIG weld equip, supplier, discuss TIP TIG aluminum wire feed capability (may be an issue with soft wires).
Carbon Steel Welds With TIP TIG
While MIG and flux-cored will be the most common arc weld processes utilized for carbon steel welds, TIP TIG should be considered when code weld quality applications come up mainly when internal weld quality is evaluated with NDT. In contrast to the TIG – MIG – FCA processes, TIP TIG is easier to use for all position carbon steel pipe welds. TIP TIG also provides the capability to weld both the root and fill passes with higher weld quality capability than any arc weld process. TIP TIG will allow weld shops to reduce Vee or J-grooves dramatically. So why bother TIG  or SMAW welding the root, and then using  Pulsed MIG or Flux Cored for the fill passes, when TIP TIG will do the whole job, require less weld skills and without concern for weld rework. As for high strength steels or armor applications and welds with impact concerns, it's impossible for any arc weld process to attain superior mechanical properties or to outperform TIP TIG as it produces the lowest welded part heat input. Also with the lowest part heat, traditional pre-heat, interpass temperatures and post-heat will typically be reduced or eliminated.
Duplex Steel Welds With TIP TIG
Duplex is a 50/50 mix of austenite and delta-ferrite and provides much higher strength than austenitic stainless, yet has similar weldability characteristics as Stainless. TIP TIG overcomes sluggish weld concerns associated with duplex and stainless and enables the lowest part distortion. As for the Hex Chrome weld fume issues on most clean welded parts, you won't even see weld fumes. To control and balance the duplex – ferrite percentages, weld, and part, heat regulation is essential. Weld shops should be aware that TIP TIG is the only manual arc weld process that can "consistently" provide the "widest possible weld joules range" from the lowest possible weld joules to the highest joules. When welding chrome-nickel alloys or carbon steels, TIP TIG enables groove dimension reductions and provides a weld and part quality simply never attainable with TIG – Pulsed MIG and Flux Cored welds.
Titanium Welds With TIP TIG
Anyone who welds titanium is aware of the weld heat concerns with atmospheric t oxygen and nitrogen corrupting the titanium weld or HAZ as the weld cools. Oxidation influence  can make the titanium welds and parts brittle and prone to cracking or premature fracture. To attain the highest manual arc weld quality, the  slow-moving (high weld heat input) DC TIG has for decades been  the weld process choice, and to minimize the titanium weld and parts oxide reactions, a cumbersome argon gas trailing shield is usually attached to the welder's TIG torch. With TIP TIG, you have two prime weld benefits that eliminate most concerns when welding titanium.  [1] DCEN  TIP TIG can weld titanium parts with the weld speeds associated with MIG welds. That increased TIG weld speed with the DC Electrode Negative and the resulting rapid weld heat conduction with  many titanium welds, can result in low weld and part heat in which oxidation can not occur and  a gas trailing shield is not required. [2] TIP TIG is unique in that it also provides a slight weld agitation with the  highest weld energy / fluidity which minimizes the potential for weld porosity that can weaken the titanium weld. 
Inconel Alloy Welds With TIP TIG
When one of the largest Sub Sea / Oil companies in China wanted a manual, and automated weld process that would provide the highest possible Inconel welds on the Subsea pipe OD, and Inconel clad welds on the pipe ID, they had already tried the most sophisticated pulsed MIG process from Fronius, and the best possible pulsed TIG equipment from Liburdi, nothing would meet their desired weld quality and productivity, especially with the control of the multi-layer Inconel clad ID welds, (right) in which inter-pass weld controls were not allowed. Note the TIP TIG freeze lines on these multi-layer clad welds with poor end of pipe heat sink and no inter-pass controls allowed. With Hot Wire TIG or Pulsed MIG this clad weld fluidity would be out of control. TIP TIG was the only process capable of producing the multi-layer clad welds and producing zero weld rework with the Subsea pipe welds. In 2009, at a seminar I provided in the Philadelphia Naval Yard, I introduced CNOOCA engineers and managers to this easy to use process, and then Tom, my business partner and I trained their engineers on the TIP TIG weld process controls and best weld practices. In the last decade, while N. American Oil - Subsea and power companies stayed with 20th Century weld methods, TIP TIG became the weld process of choice for the major Chinese oil and LNG companies. Also, as these welds were made inside Subsea vessels in confined areas, the Chinese welders appreciated the lowest possible weld fume concerns for the Hex Chrome issues from the nickel and stainless alloys. As Inconel alloys with TIP TIG weld exactly the same as Stainless, please follow the stainless link.
Stellite Welds With TIP TIG
So why consider inferior weld processes for costly stellite applications? When welding expensive, Cobalt-chromium wear-resistant alloys, I doubt with an arc weld or oxy-fuel process that most companies could duplicate this untouched Stellite TIP TIG clad weld that I produced using. Be aware of the dangers of the cobalt fumes, and also be mindful that with TIP TIG, those weld fumes will be the lowest possible. When welding Stellite, weld heat input, weld cooling rates, and concerns about weld heat on the weld HAZ are concerned. Again no other process provides better control of sluggish alloys and provides not only the lowest weld joules but also the widest possible weld joules range capability that TIP TIG provides.
Hastelloy Welds With TIP TIG
Around 2009 when I sat down to weld these costly Hastelloy parts, the welds had to pass X-ray quality. There could be no porosity, spatter, and weld fumes were also a concern for the customer. The welds were simple with TIP TIG. I don't have to remind weld shops of the associated costs of weld defects, weld rework, or weld rejects on costly alloy parts such as these Hastelloy C-276 flange to tube. TIP TIG is easy to learn as it requires few welder skills. This process requires no more than three weld settings for all welds. It will always enable the highest possible weld quality, the lowest distortion, lowest weld cracking and lowest weld oxidation capability, and, most important, always the best possible part metallurgy, Don't wait for another 10 years.
Copper Nickel Welds With TIP TIG
TIP TIG Copper to Stainless untouched weld left. Note the fluidity, which enhances the weld fusion with the normally sluggish alloys. Also, note the cleanliness. No other manual or automated arc weld process can provide the weld quality that's consistently attained with TIP TIG. It's difficult for me to understand why in 2020, 10 years after the introduction of TIP TIG, most global ship, naval, submarine, and oil-gas facilities that weld complex alloys have not evolved to the easy to use TIP TIG process, a process that provides the weld/part, mechanical and corrosion solutions to any alloys welded. As welders will be aware when welding sluggish alloys such as copper - stainless & nickel, lack of weld cracks, weld fusion, weld porosity, and weld spatter and fume issues are common. TIP TIG is the only arc weld process capable of dealing with all these issues.
9% Nickel Welds With TIP TIG
TIP TIG and China's largest 9% Nickel LNG Tanks.
When I bought TIP TIG to North America and started TIP TIG USA in 2009 with my partner Tom, I placed an ad in the Weld Journal about a TIP TIG workshop I was providing in Philadelphia. Some of the seminar participants were a group of engineers from CNOOC, which is one of the largest oil companies in China. At that time, CNOOC was searching for the world's best weld process for its manual and automated subsea pipe welds made on high strength steel pipes that were ID clad with Inconel. My partner Tom and I spent about 60 hours training the CNOOC engineers on how to best control and use the TIP TIG process. CNOOC quickly adopted TIP TIG in China and used it in place of GTAW, pulsed MIG, and Flux Cored for most of their code pipe welds.