Titanium Welding Applications and TIP TIG
WHEN AN ARC WELD PROCESS  MAKES TITANIUM WELDS LOOK SIMPLE, WHAT WOULD THAT  PROCESS DO FOR YOUR COMPANY WITH LESS COMPLEX APPLICATIONS SUCH AS  STAINLESS, INCONEL,  HASTELLOY, DUPLEX , ARMORED AND HIGH STRENGTH STEELS.
I want to start this TIP TIG section with the following remarkable statement. "In 2020, if any of the global weld shops in the Aerospace, Defense, Oil or Power industry is  still using manual  DC TIG, Pulsed MIG, Flux Cored or the automated Hot & Cold Wire TIG processes for their fabrication, code quality welds that require internal weld evaluation with NDT, then those weld shops are unfortunately paying unnecessary weld costs by not utilizing the process discussed at this site.
IN 2009, THE LARGEST TITANIUM FABRICATOR ON THE EAST COAST OF N.AMERICA ARRIVED AT OUR FACILITY WITH SOME 1/4, Gr 200, SCRAP TITANIUM. I HAD NEVER WELDED TITANIUM WITH TIP TIG BUT WAS AWARE  THAT WITH THE LOWEST POSSIBLE WELD / PART HEAT INPUT ATTAINABLE FROM TIP TIG, THAT WE COULD LIKELY WELD HIS  TITANIUM PARTS (BELOW) WITHOUT USING A GAS TRAILING SHIELD.   TOM AND I MADE THIS  GRADE 2 TITANIUM WELD BACK IN 2009 AT OUR FACILITY IN THE PHILADELPHIA NAVAL YARD WITH NO INTEREST FROM THE NAVY ENGINEERS.  AS YOU SEE THE WELD IS MADE WITHOUT A GAS TRAIL SHIELD, PRODUCING A  WELD QUALITY  THAT WOULD MEET ANY TITANIUM NAVSE OR ASME WELD CODE REQUIREMENT.  
IF THIS  WELD HAD BEEN MADE BY THE SLOWER  REGULAR TIG PROCESS OR  THE REVERSE POLARITY PULSED MIG, IT WOULD HAVE BEEN A WELD WITH MANY COLORS.
This 2009 TIP TIG Titanium weld video, reveals what no global weld shop could achieve if they had used regular DC TIG or any Pulsed MIG mode.
The above video is a TIP TIG Titanium weld made in 2009 and in reality in 2020 no Aerospace, Defense, Power or Energy company is capable of making this weld using their  DC TIG, Pulsed MIG or Hot Wire TIG process. 
As you view the above TIP TIG titanium weld,  apart from the untouched desired Silver color of the weld  which is made without any gas trailing shield. Be aware that if this weld was made with DC TIG or Pulsed MIG, it would normally  retain high weld heat input and instantly oxidize to unacceptable colors.  By the way as we were just setting our TIP TIG weld demo shop at this time and lacked simple cleaning resources and I had nothing that could correctly clean the  titanium parts, therefore the titanium  SCRAP parts we welded was  contaminated with  cutting contaminates and  this was the  reason for the weld  fumes.   Weld fumes are typically not evident on any clean TIP TIG weld applications. 



2009. NOTE AGAIN THE ABOVE TITANIUM UNTOUCHED WELD COLOR. THIS WAS OUR FIRST ATTEMPT WITH TITANIUM AND POSSIBLE IT WAS THE FIRST TIME TITANIUM WAS SUCCESSFULLY WELDED WITHOUT USING A GAS TRAILING SHIELD.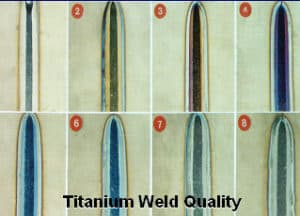 This Titanium parts will likely require the use of an inert  trailing shield, or the use of an  inert gas chamber, However titanium weldable  parts over 0.080 or 0.0100 will likely with TIP TIG be made with the same ease as a stainless or steel weld without a gas trail.

DID YOU NOTE THE TIP WELD SPEED WE WERE USING ON THE TITANIUM WELD?  If regular DC TIG had been used for the above titanium weld. The regular TIG manual  weld speed for this single pass,  3/16 – 1/4,  (6 mm)  horizontal lap weld would likely  be approx. 2 to 4 inch/minute,  with  the typical weld starts and stops and a wire length changes required. With TIG a gas trailing shield would have to be used, and there would likely be concern for  weld oxidation formation not only on the titanium weld surface, but  also on the rear side of the welded titanium plates. 
The time required to weld the above  length of 18 inches with TIP TIG indicated a weld  speed of 24 inch/min  and required less than a minute would have be less than a minute. The time required by With regular TIG, would be around  6 to 9 minutes. Pulsed MIG would have provided a similar weld speed to TIP TIG.
In the above video, while I was setting the TIP TIG Titanium weld parameters for my business partner and great friend Tom to weld some the Grade 2. Titanium scrap parts, the engineering manager from  the Philadelphia Fabricator asked me why I had not set up the weld to use an argon gas trailing shield for the TIP TIG torch the same as his welders do to protect their fabricated  titanium parts  from  the normal weld / part oxidation issues  associated with titanium welds. I smiled at the engineer, and told Tom to start the weld.  I knew something that this very experienced engineering manager  did not know then, and unfortunately most global engineers and managers ten years later, still do not know.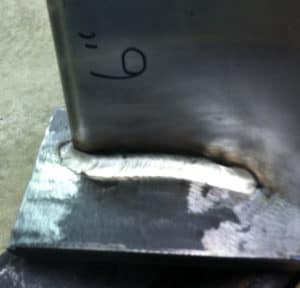 A WELD HISTORIC EVENT OCCURRED IF THERE IS SUCH A THING.  Though this was the first time Titanium would be welded with TIP TIG in North America and likely the fist time a weld such as this was ever successfully welded  anywhere without using an inert gas trailing  shield and meeting the most stringent NAVSE, ASME & API weld quality standards.  I was well aware that when I was previously welding other heat sensitive alloys of the very low weld heat that  I was  attaining which was evident  through the very small weld HAZ and  silver and gold weld colors that I was attaining on the steels, Inconels, Stainless  and  the Hastelloy turbine scrap test application that I welded on the left. On this Hastelloy part I made the weld larger and longer than was necessary simply so I could view the oxidation effect from the TIP TIG weld that I again made without a gas trailing shield.
The lack of  weld oxidation, indicated above and on  the Hastelloy and thin Stainless parts, video below, was in 2009 an indication to me that  with TIP TIG weld shops  welding most alloys, weld shops would not  likely never require a gas trailing shields on most fabricated parts. or worry again about welded part mechanical and corrosion properties,  or parts in which distortion is a concern.
On the subject of the influence of weld process selection and weld oxidation, examine the lack of weld oxidation on this TIP TIG "thin gauge" stainless weld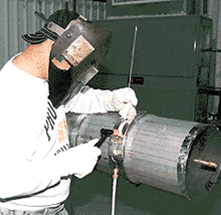 TITANIUM WELDING USING OUT DATED 20th CENTURY METHODS:  So if you are a defense contractors your approach to titanium weld on parts > 3 mm, such as this USA Navy titanium pipe weld, would  be for manual welds to use  DC TIG that provides very low weld deposition rates producing  pipe "fill pass" weld speeds in the 2 to 5 inch/min range. Those pipe, groove, multi pass, low DC TIG  weld speeds would generate high weld heat, and therefore to minimize the effects of the titanium weld heat influence on weld / part, a gas tail shield would be used and also inter-pass temp. controls.
When  TIG welds are made on titanium and the welds are highly sensitive to oxidation, the finished weld color will speak for itself,  and with Titanium weld porosity is also a primary weld concern. In contrast to regular DC TIG, depending on the part thickness, TIP TIG manual or automated, titanium  pipe fill pass weld deposition rates will typically be 200 to 400% greater than TIG, enabling  weld fill pass travel rates  typically in the 10 to 25 inch/min range. Please note also, on most titanium welds on parts over 1/8, inter pass temp is not required and  a gas trailing shield would not be required. Also as the TIP TIG weld provides more weld energy than any other weld and the TIP TIG weld is slightly agitated, the lowest weld porosity will be attained and weld rework  for the Navy could be a thing of the PAST. 
 REASONS WHY TIP TIG PRODUCES THE LOWEST WELDED PART HEAT AND WELD OXIDATION. At a DC TIG weld speed of approx 3 inch/min with one weld start and stop for a new wire length, the time to weld the above eighteen inch long,  1/4 thick titanium  part with TIG would be approx 6 minutes. In contrast  the time to weld the titanium part with  TIP TIG travelling at 24 inch/min as shown on the video, was 44 seconds.  The weld heat  generated with DC. TIG  approx. 39,600 J/inch. The weld heat generated with DC. TIP TIG,  5.550 J/inch.
Its the higher weld travel speeds now after seven decades is attainable with  DC TIP TIG welds and of course the  DCEN polarity that will always on most applications > 2 mm enable a remarkable weld energy difference between  traditional DC TIG, REP Pulsed MIG. As Pulsed MIG uses Reverse Polarity which  concentrates the weld heat in the MIG plasma which  greatly influences the high weld and part HAZ heat
OXIDATION FROM  A  MIG GAS MIX..Remember also when dealing with weld heat sensitive alloys and considering MIG, that  MIG provides higher part heat and also requires reactive gases such as CO2 or Oxy. which influence, oxidation and  porosity on any application. TIP TIG only requires argon and should never require helium.  The TIP TIG weld benefits that apply to this titanium weld, also applies to any alloy or steel application you want to weld with TIP TIG.
"WELDERS WANTED TO WELD  TITANIUM VESSELS, MINIMUM WELDER SKILLS REQUIRED".  TIP TIG is easy to use,  just like MIG, with TIP TIG you can have one or two hands on the torch just point and move and no  foot control required. From a root pass to any position weld, TIP TIG  makes all position welds an easy task.
Dont forget that weld Costs are of course influenced by the required Welder Skills:  Apart from the weld deposition rates attained and weld rework required, weld costs are also influenced by the required welder skills. Weld shops take note, all of the traditional arc weld processes such as traditional DCEN TIG, Pulsed MIG, Flux Cored or the SMAW process, require higher all position welder skills than required with TIP TIG. Also as we are all aware when hiring TIG welders, the welder skill requirements will influence the hourly labor costs, and also the manual welder skill differences will affect weld defects.
Note. Every business is aware that  in 2019, all position skilled weld personnel are in short supply. With TIP TIG not only do you enable the highest all position weld quality, this also is a process that requires the lowest all position welder skills. 

With TIP TIG, in contrast to TIG, the weld application size and thickness are no longer that relevant. 

THE FOLLOWING TIP TIG LARGE SCALE  ARMY  TITANIUM  WELD APPLICATION BELOW, WAS BOTH VERY COSTLY AND MADE UNNECESSARY COMPLEX FOR THE US ARMY. IT WOULD HAVE BEEN SIMPLE WELDING APPLICATION IF THE MILITARY AND MFG. WELD MANAGEMENT AND ENGINEERS RESPONSIBLE  HAD SELECTED  TIP TIG  WHICH WAS AVAILABLE AT THE TIME.
To reduce weight, the army Howitzers were made out of Titanium.
When the Army wanted to make lightweight Howitzers out of Titanium, TIP TIG was available at that time and I tried to inform their relevant engineering personnel of how this process would simplify their complex costly application and would cut  hundreds of millions of dollars of the Howitzer weld mfg. costs, no one was listening.  And the most difficult thing to create with the armed force weld decision makers seems to be the implementation of progressive weld change.
Its 2020 now and  I doubt if any of the Army or any Defense personnel involved in weld engineering decisions will be aware of the TIP TIG process, and especially the weld / part  benefits it would bring to welding any code quality welds, alloys, high strength steels, investment castings,  armor steels and also  on many aluminum applications.
Why titanium? The army generals wanted the howitzers to be lighter, so they would be less strain on the equipment lifting or transporting them. .
In the good old days, my dad used to ride horses which pulled  howitzers, back to reality.  Think about the problems welding and repairing the howitzers, and then think about the solutions that since 2009 could  have been provided with  TiP TiG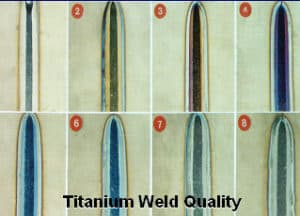 The visual inspection of the color of titanium welds and parts, is a great indication of the resulting weld / part integrity. A macro examination of that titanium weld showing oxidation will typically reveal weld defects such as porosity. Undercut and lack of root or side wall fusion is also common.

The aim when welding titanium should always be to produce a bright silver weld. Any discoloration outside the silver weld indicates that some reaction with the weld and oxygen has occurred either during the actual weld or during the weld  cool down period.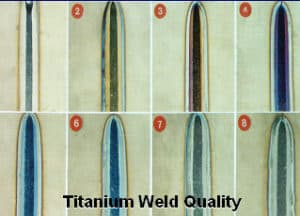 Any titanium weld discoloration should be cause for stopping the weld operation and correcting the welding problem. Light straw-colored weld discoloration can be removed by wire brushing with a clean stainless steel brush, and the welding can be continued. Dark blue oxide or white powdery oxide on the weld is an indication of a seriously deficient purge. When the discoloration takes place, stop welding immediately and review the causes of the oxide reaction.
For the finished weld, nondestructive examination by liquid penetrant, radiography and/or ultrasound are normally employed in accordance with a suitable welding specification. At the outset of welding it is advisable to evaluate weld quality by mechanical testing. This often takes the form of weld bend testing, sometimes accompanied by tensile tests.
IN 2019, IT'S A SAD ENGINEERING REALITY  THAT  DEFENSE CONTRACTORS AND MOST COMPANIES THAT WELD, ARE STILL WELDING  ALLOY STEELS &  ALLOY CODE QUALITY WELD APPLICATIONS USING OUTDATED 20th CENTURY MANUAL OR AUTOMATED ARC WELD METHODS SUCH AS GTAW, HOT WIRE TIG  AND PULSED MIG: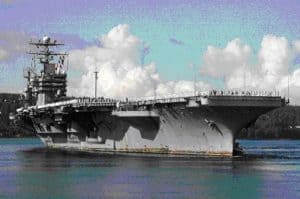 Typically all position, mechanized, Hot Wire TIG, Titanium pipe welds,  left  made in the construction of  an Aircraft Carrier, or the manual or automated titanium, traditional TIG welds made on parts > 3 mm, such as on the above Army Titanium Howitzer, would typically use cold wire or Hot Wire TIG providing very low weld deposition rates,  of often less than one pound/hr. Manual or mechanized welds, the  typical automated low deposition pipe GTAW  "fill pass" weld speeds would often be in the 2 to 5 inch/min range. The multi-pass low TIG pipe welds speeds in the pipe grooves  of course would  generate high weld / part heat. . Lets also not  forget that many mechanized welds often will require manual TIG weld repairs. With the titanium welds the manual TIG weld personnel would have to deal with cumbersome gas trailing shields that for a decade have been unnecessary with TIP TIG.
WITH TIP TIG, RECONSIDER THE ALLOY OR STEELS WELD HEAT RULES: To every global weld shop that wants to produce code quality welds, the TIP TIG weld quality / weld heat benefits that apply to the mentioned  titanium welds, would of course also apply to any steels, alloy steels, alloy steels and to many aluminum  applications.  With TIP TIG weld preheat is often eliminated or reduced, inter-pass-temp eliminated and reduced and post heat reduced or eliminated.
 In contrast to many pulsed MIG welds,  if the the weld shop used TIP TIG it could anticipate approx. a 50 to 70% weld heat reduction.
Note: The weld heat conductivity benefits of  DC Electrode Negative TIP TIG  with its higher weld speed potential versus the Reverse Polarity Pulsed MIG or Spray weld modes  are poorly understood by most weld industry personnel that should aggressively be looking for ways to reduce weld heat on heat treated applications. Note:  For decades, the weld reality has been with many  AC/DC  TIG welds, is that you would find that the slow moving TIG welds and  the much faster Reverse Polarity  MIG welds would often generate similar weld joules in the parts welded.
THE BEST POSSIBLE WELD QUALITY COMES FROM A PROCESS THAT PROVIDES THE HIGHEST EN POLARITY WELD ENERGY IN AN INERT PLASMA WITH MODERATE WELD DEPOSITION RATES, ALSO A PROCESS THAT IS EASY TO USE AND REQUIRES NO MORE THAN THREE WELD SETTINGS.

FINALLY AFTER 75 YEARS OF TRADITIONAL DC TIG WELDS, WE CAN NOW GET THE WELD BENEFITS ATTAINED FROM ELECTRODE NEGATIVE. Keep in mind that  while the Pulsed  or Spray MIG weld transfer modes will enable faster weld speeds than  TIP TIG, these  Reverse Polarity processes are using Electrode Positive. This polarity  concentrates the MIG weld plasma heat in the upper portion of the MIG plasma, around the continuous fed weld wire tip. While weld shops are aware of  the  arc weld polarity required per-process used, they need also to be aware that for almost 75 years the traditional DC Electrode Negative TIG process which directs the majority of the TIG arc plasma energy towards  the positive part welded has rarely been able to benefit from the  DCEN weld  polarity  in which the TIG welded parts become a large heat sink enabling rapid weld heat conduction for the DC TIG weld heat generated.  The reason on most TIG welds for the high TIG weld heat generated is simple, traditional   DC TIG on most parts > 2 mm typically generates very low weld deposition rates and very slow arc weld speeds.

On might ask in 2019, why is it that most of the global high tech. company weld departments are using 20th Century weld processes, weld procedures and specifications for their 21st Century welds. I wonder if it has  something to do with the common lack of front office weld process ownership that I have been complaining about to no avail for the last 30 plus years? 
IS THIS STILL THE GLOBAL WELD SHOP ANTHEM.

Lets face it, who has not heard the following two phrases in their weld shop.  "Why change the way we have always done it". Or that old weld shop favorite. "Can you give me sometime to play around with the weld controls?"  This weld shop attitude is not in reality a weld shop problem, it simply reflects the common lack of  front office weld process ownership.
2019: NOTE FOR THOSE WELD SHOPS STILL USING WELD & MATERIAL SPECIFICATIONS AND CODE INFO. GENERATED IN THE 1980's and 1990's:
The typical weld joules  heat  input obtained from the traditional Spray – Pulsed MIG and  TIG processes has for many decades influenced  the required weld  preheat, the weld inter pass, and post weld heat recommendations. Also  weld filler metals specifications and the weld / part properties attained are based not only on the weld wire chemistry but on the filler wires weld quality potential and typical arc weld heat input generated.With the above outdated  weld methods, weld shops end up with the typical arc weld mechanical or corrosion properties that have changed little in decades.  Then along comes TIP TIG, a process that not only provides the highest possible arc weld quality, but also the LOWEST  possible welded part heat.