TIP TIG
the World's Most Effective Pipe Weld Process
FOR THE FIRST TIME IN THE HISTORY OF ARC WELDING, WELD SHOPS THAT PRODUCE CODE QUALITY PIPE WELDS WILL BE ABLE TO CONSISTENTLY PRODUCE WELDS THAT SHOULD NOT REQUIRE WELD REWORK: 
Since the introduction of arc weld processes more than 150 years ago, there has never been with manual welds, an ideal, all position, single, arc weld  process perfect for both pipe root and fill passes. TIP TIG was invented by Plasch Austria.  I  introduced and established TIP TIG  in N. America around 2009. As you view in the video, there has never been a more simple and relaxed way to deliver the highest possible weld quality on all position pipe, vessel, tank welds.

With TIP TIG, and the correct training,  the weld shop should enable a weld quality that should not require weld rework. Also as TIP TIG enables the lowest welded part heat, the TIP TIG welds will enable the lowest part distortion, the lowest weld and  part stresses, the best possible weld and part metallurgical properties, and the lowest possible weld fumes. Weld personnel would  also appreciate no weld spatter and no grinding, while attaining  "all position" weld productivity similar to Pulsed MIG.

CNNOC, one of the largest Sub Sea Oil Companies in China,  sent a team of it engineers to Europe and N.America to find a 5G manual and automated steel pipe and Inconel weld / clad process, that would produce defect free Inconel welds. The engineers spent a week with Tom and I at our Philadelphia TIP TIG USA facility, and then quickly adopted TIP TIG as their prime weld process for Sub sea and LNG welds. 


TIP TIG adopted by the Chinese in 2009 for their sub sea pipe welds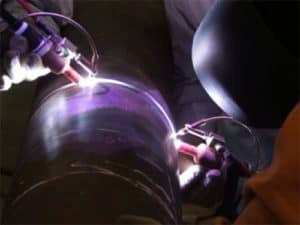 A FEW REASONS WILL FOLLOW WHY THE MAJORITY OF WELD SHOPS THAT PRODUCE CODE QUALITY PIPE WELDS, NEED TO STEP INTO THE 21st CENTURY AND  CHANGE THEIR "THIS IS  WAY WE HAVE ALWAYS DONE IT" APPROACH TO PIPE & VESSEL WELDS: 
For decades, when it came to code quality manual Pipe, Vessel and Tank welds, the weld shops when welding 5 or 6G position pipe welds, would typically use  the 1946 DC TIG,  or the 150 year old SMAW (stick)  process for the root welds. If a semi-automated weld process was desired for the following pipe  fill passes, the weld shop would often use the gas shielded flux cored process with  the common 0.045 (1.2 mm) wire, and it's fast freeze weld slag capability.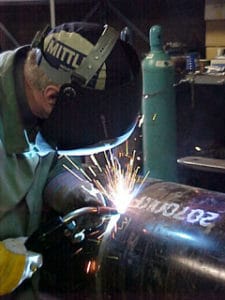 For decades on "rotated pipe welds", MIG Short Circuit (SC)  with an 0.035 wire was a common weld process for steel pipe 5G root welds. With "alloy steel"  root welds, there may be sluggish weld solidification" issues with SC welds. And for the rotated 5G pipe fill passes, gas shielded flux cored is a common selection even with the  flux cored wire's  common entrapped  weld slag and  porosity concerns.
MIG Spray or Pulsed MIG are often used in rotated pipe fill pass welds. And with pipe – tank or vessel wall thickness > 7 mm, lack of weld fusion can be a concern. With MIG Spray welds, while the weld surface and tie-ins would look excellent and yet often in the fist and second pass over the root, the spray weld would reveal  lack of weld fusion.  That lack of Spray MIG fusion would result from  the poor relationship between the weld energy delivered that's  influenced by Reverse Polarity and the MIG weld deposition rates delivered  that drive the rapid weld travel rates  
As for pulsed MIG, as well as the relationship between the weld speeds and polarity discussed above, the Pulsed MIG low background current will always have an influence on the weld fusion  attained and that fusion is further influenced by the wall thickness and the alloy content and gas mix.  


Below. Em  training Exxon pipe welders on MIG and Flux Cored best pipe weld practices,  and also evaluating for Exxon the usability of  MIG  STT – MIG RMD –  MIG SC weld transfer modes for the over head  5G root position on Nat Gas pipe.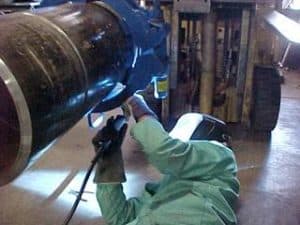 Note: When you want to evaluate a pipe root weld process capability , there is no better weld position to start than the 5 – 7  o'clock weld position.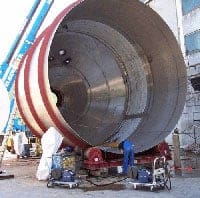 With all position Pipe – Vessel and Tank welds, there is no longer a  NEED FOR TWO ARC WELD PROCESSES: 
From root to fill, weld applications such as this tank are now being completely welded with one weld process, TIP TIG. As many are aware. weld shops would typically utilize two weld processes for their common code  welds on pipes, vessels, tanks and  valves.  When welding 5G pipe welds, often one weld process will be utilized  for the root weld, and one process  for  the pipe fill passes. And for the weld shops the need for two  weld process will require;
TWO DIFFERENT WELD POWER SOURCES.
TWO DIFFERENT WELD GASES.
TWO WELD CONSUMABLES.
TWO WELD PROCEDURES.
TWO SETS OF WELD EXPERTISE AND WELD SKILLS.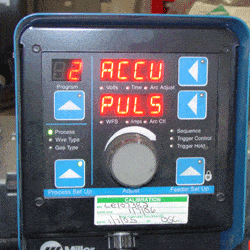 In the three  decades, while the major N.American and European weld equipment manufacturers went through  thirty years of trying to remove the electronic bugs from their too often erratic performing Pulsed MIG equipment, they are   actually in the last  few years producing  Pulsed MIG equipment with mediocre programs suited to both the root and fill passes with all position pipe welds. 

IT'S ONE THING FOR A WELD EQUIPMENT COMPANY TO STATE THAT THEY HAVE AN ARC WELD  PROCESS CAPABLE OF ALL POSITION PIPE WELDS, HOWEVER THE WELD REALITY FOR THE PIPE SHOP IS;
WHAT IS THE PIPE ROOT WELD QUALITY ATTAINED FOR ALL POSITION WELDS WITH VARIABLE ROOT DIMENSIONS?

IS LACK OF WELD FUSION, POROSITY, SLAG OR SPATTER A CONCERN?


WHAT IS THE PIPE WELD  PROCESS  COST EFFECTIVENESS WITH ANY WALL THICKNESS AND ANY DIAMETER?


WHAT IS  THE EASE OF USE, ARE PIPE WELDER SKILLS INCREASED OR DECREASED? 


HOW EASY IS THE WELD PARAMETER SELECTION?


WHAT IS  THE SUITABILITY OF THAT PROCESS WITH ALL METALS, AND WILL THE PROCESS DEAL WITH SLUGGISH ALLOYS THAT INFLUENCE WELD FUSION?


WHAT WILL BE THE WELD HEAT INFLUENCE FROM THAT PROCESS BE ON THE WELDS AND PART?


WILL THE  PROCESS PRODUCE WELD SPATTER AND WILL THERE BE WELD FUME CONCERNS?

Note: The TIP TIG process as revealed at this site addresses every one of the pipe weld requirements.

TO ELIMINATE ALL THE CODE WELD QUALITY CONCERNS THAT ARE  OFTEN ASSOCIATED WITH PIPE, TANK AND VESSEL APPLICATIONS, WELD SHOPS NOW CAN DO WHAT SPACEX ENGINEERS FINALLY REALIZED AFTER A DECADE, THAT THEY HAD TO DO,  USE  THE TIP TIG PROCESS.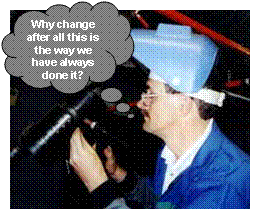 IT'S BEEN USED FOR OVER 75 YEARS,  SO OF COURSE ITS TIME FOR CHANGE TO A PROCESS THAT IS EASIER TO USE, WILL PROVIDE SUPERIOR WELD QUALITY AND DRAMATICALLY LOWERS WELD COSTS.
The reality has been since the 1940's, that the DC TIG process was the only manual arc weld process that the weld industry was confident could consistently attain steel and alloy steels  code weld quality that had a chance of  requiring minimal weld rework. However with the DC TIG average poor weld deposition rates of less than a pound/hr, and the fact that TIG required  the highest welder skills. The DC TIG process was poorly suited to many code quality weld applications.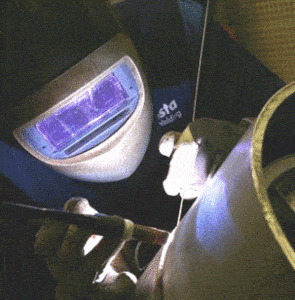 The  weld reality is that during the 20th Century, the major global weld equipment manufactures did little to improve the DC TIG weld process, in general their weld equipment  process improvement focus was typically on improving the  pulsed MIG process,  a process which in reality can never deliver the pipe weld quality capability of  DC TIG.   
EVERY WELD SHOP THAT PRODUCES CODE QUALITY WELDS APART FROM WELD QUALITY HAS TO BE INTERESTED IN THE WELD PROCESS CAPABILITY FOR  WELD UNIFORMITY AND WELD CONSISTENCY.
The DC TIG welder skills, the different TIG wire feed hand delivery techniques and  many different  weld practices utilized on TIG pipe, vessel and tank welds, vary dramatically from  one DC TIG welder to another DC TIG welder. Lets face it, this had to influence weld quality, weld uniformity and weld continuity. Think about this  when you make a decision and your focus is on attaining optimum, consistent, uniform weld quality. 
TIP TIG P91 Heavy Wall Root and Fill before Cap Pass
ABOVE: Note P91, 40 mm wall.  5G – 6G positions. At 6 o' clock position  note TIP TIG root continuity. Don't forget from welding a submarine to any vessel, pipe or plate groove weld you can typically REDUCE the GROOVE weld DIMENSIONS by 15 to 20% = less weld, even less weld heat.  less labor and weld consumable costs.
Note the above 5G  – 6g fill pass weld cleanliness and weld energy. Also note again  the  fill passes weld energy, the weld cleanliness and weld continuity. I prefer narrower stringer technique however with the wide beads used here which typically will add to weld heat, examine the pipe surface HAZ color before the root and after most  of the fill weld passes, and you can see how small the multi passes weld heat influence has been on the pipe. So if you are welding P91 pipe, the hull of a submarine, or any steel / alloy application, with TIP TIG the weld shop will always enable the  lowest weld heat input , with all position weld quality that's simply not possible with Flux Cored – Pulsed MIG or the  DC TIG process. 
A 5G Root (above) on 40 mm P91 Pipe with TIP TIG.
No matter how hard the weld shop tries, with manual DC TIG or  MIG STT – MIG RMD or with any low amp pulsed MIG weld mode, you wont get the ability to deal with weld gap and pipe alignment root changes. You wont have the weld continuity, the control of arc starts – stops or  the weld cleanliness  that's possible with TIP TIG on  any weld position, pipe, vessel or plate weld application.




TIP TIG welding a pipe that's thicker wall than a submarine hull, producing weld  quality that is impossible to achieve  with the flux cored wires that are being used.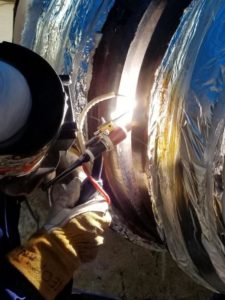 WHEN FLUX CORED IS SELECTED WELD QUALITY No IS ALWAYS IN DOUBT:  No matter how skilled the pipe welders are, the moment gas shielded flux cored welds are selected, costly weld rework is usually required. Defense contractors and Army – Navy – Air force engineering  personnel take note. With TIP TIG, One process, one gas one wire from root to cap. No hydrogen concerns. Less wire storage concerns. No trapped slag.  No lack of fusion. No porosity.  No spatter. No weld fumes and the lowest weld heat into the parts ensures the highest mechanical properties.
TIP TIG Pipe Welds Vs DC TIG - Pulsed MIG and Gas Shielded Flux Cored.
5G TIP TIG Root Weld Feature Benefits.
The

continuous

fed  TIP TIG wire reduces the welder skill influence on the weld and enables a weld wire delivery  continuity and uniformity into the plasma sweet spot, two capabilities not attainable by any manual DC TIG welder.


The unique TIP TIG wire to upper plasma placement, enables the complete plasma coverage over the weld surface producing improved weld root fluidity,  yet thanks to EN polarity, also producing a fast freeze weld surface, again  features not possible with DC TIG or Pulsed MIG.


In contrast to DC TIG in which a large solid wire is fed into the rapidly fed weld pool, the already fluid,  agitated TIP TIG weld drops are fed into a more fluid weld, this also adds to the  best possible root weld results

with sluggish alloys

.
 
With additional energy & inert gas, TIP TIG welds should have the lowest porosity. Not possible with MIG or TIG


TIP TIG welds also benefit from DCEN polarity, which  with the increased weld speeds add to the fast freeze weld characteristics, making TIP TIG easy to use in any in any positions. Not so with Pulsed MIG. 


Like DC TIG, the TIP TIG welder if they wish  can walk the cup for the root which is an easy weave method and remember with TIP TIG, the welder does not have to feed a wire or work a foot  amp control.


TIP TIG will in contrast to Pulsed MIG – STT – Short Circuit or RMD MIG, is less sensitive to root gap dimension. With reduced root gaps simply slow down the higher energy TIP TIG weave or travel rate. With wider root  gaps, simply speed up the TIP TIG weave  or travel rate.


In contrast to any MIG weld transfer mode, TIP TIG has complete automated control of the arc start – arc stop ramp up – ramps down weld current.
TIP TIG ROOT ABOVE, OR DO IT THE WAY IT'S BEEN DONE WITH TIG BELOW SINCE THE 1940s
Manual DC TIG Below : Those high skills to feed wire are no longer required. Two hands no longer required.  Foot control no longer required. To much weld heat no longer an issue. Too slow is no longer an issue. 
5G TIP TIG Pipe Fill Pass Welds Producing 400% More Weld than DC TIG Welds.
When I set this TIP TIG weld for Tom at a demo at a Westinghouse facility, I set the TIP TIG wire feed at close to 400% greater weld deposition than any Westinghouse welder had ever applied with a TIG 5G fill pass. Of course deposition rates are not a subject that gets many welders exited, but I mentioned it to the welders as the Westinghouse key  mangers  and engineers were too busy to view the welds as they were sitting in their offices staring at a computer.
So at the Westinghouse demo we witnessed the usual  lack of weld process management / engineering ownership, which was remarkable considering the shortage of skilled welders in the  power industry, and also the relevance of being able to cost effectively produce the best possible weld quality with the best possible metallurgical properties for the parts welded.
As you see with the demo the welders provided us with a heavy wall contaminated weld coupon, (he reason for the smoke). 
I set the pipe TIP TIG fill pass amps close to 370 amps  with a deposition that would be similar to a MIG weld. Each TIP TIG weld pass produced would have produced a layer depth that would have been typical with at least 3 TIG passes.
Note as the the Westinghouse welder was watching he was anxious to take over from Tom, so without skipping a beat, Tom passes him the TIP TIG torch with the weld continuing, this would be impossible to do with a manual  DC TIG or  pulsed MIG weld,  and is a reflection of the ease of use of the TIP TIG process.
5G TIP TIG Pipe Fill Pass Groove Weld Feature Benefits
Any serious weld decision maker would look at this TIP TIG weld and realize its producing something that's  impossible with a regular DC TIG weld, or with any Pulsed MIG weld mode. Here are the prime reasons why.
Examine again the plasma and weld surface. Thanks to the unique TIP TIG full plasma coverage over the weld surface  watch that fluid weld as the arc is directed left and right. This ensures the best possible fusion into the side wall.
That high TIP TIG energy is influenced by the increased current capability and the fact that the weld wire drops are fluid as they enter the weld.
The rapid freeze weld characteristics influenced by EN polarity. The capability that comes from a ceramic nozzle, the continuous fed wire and no foot control  dramatically reduces all position pipe weld skills.
Note the with the high energy and inert gas, the resulting weld purity that will never be possible with any pulsed MIG weld using a reactive gas mix.

Its a small point but this TIP TIG picture shows something not possible from any manual DC TIG welder. The TIP TIG vibrating weld wire is fed at a fixed continuous rate into a plasma sweet spot that does not derive energy from the weld, of course this adds to the weld quality uniformity and continuity. 
To create the  steel or alloy steels Pulsed MIG weld drops, those pulsed weld drops are influenced by the approx. 50% of their time spent at a Low Back Ground Current which dramatically influences the open arc weld energy attained.
Every weld shop  should be aware  how well suited Pulsed MIG is for aluminum gauge welds in which MIG spray transfer is too hot and the lower energy from the pulsed process is better suited.
In contrast to higher energy spray welds, Pulsed MIG on stls > 1/4, 
(> 6 mm)  will typically increase the weld concerns for lack of weld fusion and porosity. That concern is increased with sluggish welds that result with alloy steels especially stainless.

TIP TIG will always provide on any metals the best possible weld fusion with the lowest weld porosity.

In contrast to pulsed MIG, 

TIP TIG welders have the best possible process for both the pipe root and fill passes.

Pulsed MIG is highly wire stick out (WSO) sensitive in which small changes have an impact on the weld energy delivered.
Pulsed MIG will have weld start / stop and tie-in defects, and the skills required are higher

than required for TIP TIG  which does not have   WSO or weld start / stop and tie-in issues.

Remember if STT  or any other low pulsed or SC modes are used  for pipe roots, these processes will be sensitive to root gap dimension changes and also influenced by sluggish alloys.

Wheres as TIP TIG is less sensitive.

On any all position pipe, plate or vessel fill pass welds, no  pulsed MIG mode will ever provide the weld energy delivered by TIP TIG.
Pulsed MIG has to create oxides viewed as porosity, TIP TIG eliminates this concern.
Pulsed MIG fill passes will create concern for  distortion and stresses and sometimes the need for inter-pass temperature requirements, typically not a concern with TIP TIG.   
Pulsed MIG will have a more negative influence on the welded parts mechanical and corrosion properties than TIP TIG.
Pulsed MIG will create weld fume concerns with chrome and other alloys, TIP TIG will not.
I have been writing about Pulsed MIG issues now for  more than 30 years, and the primary issues  relative to weld fusion on steels and alloy steels with pulsed MIG on code quality welds have not been resolved. 
A SIMPLE TEST THAT REVEALS THE WELD FUSION CONCERNS WITH PULSED MIG. For those that don't understand the weld energy differences delivered from a traditional MIG Spray and a Pulsed MIG weld, do the following task. 
With 3/8 or 1/2  steel thats at least  two inch wide. Grind the edges where a horizontal fillet weld will be.
Take an 0.045 (1.2mm)  steel MIG wire and use any argon CO2 mix in the range of 10 – 20% CO2.
Set the wire feed rate at 420 inch/min, ensure > 250 amps is shown on the power source meter. Set a weld voltage of around 28 volts producing a little crackle sound with a minimum spatter.
Use fore hand and produce a simple 1/4,  (6 mm) fillet weld at least 8 inch in length.
Then on cold clean plate do the same weld with the power source set at the Pulsed Mode. Again set the wire feed at 420 inch/min. The pulsed volts are usually less, 24 – 27 V. Repeat the 1/4 fillet.
Do a Macro in the weld center with both samples and focus on the weld fusion attained.
Be aware that when you set the CV mode on a Pulsed Power Source you will typically draw less current than that attained with a regular CV power source.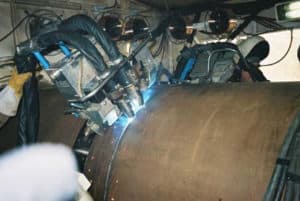 Note: For those of you that see or read about Pulsed MIG utilized successfully on automated pipe weld applications, remember these welds are made with controlled weld travel and weave rates and sometimes use weave spike voltage settings and dwell times to improves the weld fusion capability, features not possible with manual Pulsed MIG welds.
A SUMMARY OF 5 & 6G MIG PIPE ROOT PROCESS CONCERNS.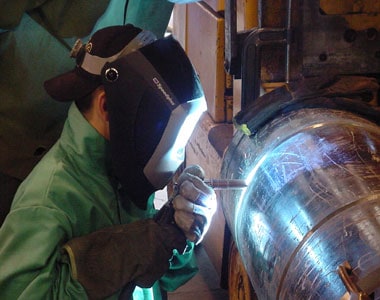 Like TIP TIG, when welding 5G pipe root welds, MIG processes like Lincoln STT which from my perspective is little different than the low pulsed modes that since 2010 have been available on a variety of global  pulsed MIG equipment, (OTC good choice). Or the Miller RMD,  which in contrast to a regular CV MIG unit, will for a given short circuit wire feed  setting,  enable less current / less short circuits/min. This reduces the opportunity when welding in the 5 to 7 o'clock pipe positions,  for the MIG weld wire to drive through the root.
The two mentioned MIG weld modes mentioned are easy to use. As you can see here, it took me less than 30 minutes to train 11 year old Jesse to do an open root 5G pipe weld on a Nat Gas, 18 inch pipe.  For those shops that weld pipes, note the following. 
For the last 20 years, with all the available MIG transfer modes (including Short Circuit for  5G pipe roots, when the MIG root gaps get to small or too wide, root weld issues typically occur with trying to control the weld penetration.

MIG modes are also sensitive to the land edge prep variations. 

With the MIG modes, suck back, porosity and crater cracks can occur.
With the manual MIG modes tack weld tie-in and arc start stops are common defect areas.
MIG modes are sensitive to alloys in which the welds may be sluggish.
TIP TIG Untouched weld quality. It does not matter what the weld position or metal weld is
Examine the TIP TIG root weld fluidity, the weld Purity and Continuity. Its the same in any weld position. This will never be possible with TIG or any MIG weld transfer mode.
Gas Shielded Flux Cored Welding and Pipe Weld Defects Influenced by the Process.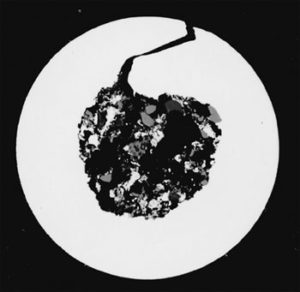 Its difficult to guarantee the consistency of a code quality flux gas shielded flux cored weld, when that weld quality is not only be dependent on the welder skills  and usually their lack of weld process controls and best weld practice expertise.  Flux cored is also a weld process in which slag entrapment leading to lack of fusion is the norm, as is excess weld porosity.  The  final flux cored weld  quality will also be;
dependent on the the weld quality and consistency of the flux provided during wire manufacturing. This varies greatly from one flux cored mfg. to another.


the flux capability through its seam design to absorb moisture during storage and use. Again this varies greatly  from one wire mfg. to another.


the greater  the weld current used > 250 amps, the less influence the fast freeze weld slag will have and pock marks on weld surface will be evident like an SAW weld without adequate flux . Many of you will use the E71T-1 wires for 1/4 or larger horizontal weld fillets and will have excess porosity or weld oxidation concerns  as the slag is too thin, unlike a basic slag on an E70T-1 wire which is thicker (slower weld cool) and provides more deoxidizers.



The flux cored weld will also be dramatically influenced by small changes in the wire stick out lengths which is  common especially with groove welds on parts > 1/2.  
Another issues with flux cored wires and the often long gun lengths utilized. With long gun lengths,  to maintain the wire feed, often too much tension is applied on the drive rolls which can crush the wire influencing the consistency of the flux transfer. 
Even when the flux cored  wire is not crushed, the flux transfer with the molten metal can also be irregular. That fast freeze, rutile, thin, weld slag that you see with the common E71T-1 wires can be  inconsistent in both  it's thickness and in it's weld  coverage.
The common worm tracks and their related excess random porosity will also be common flux cored weld defects, influenced also by the dampness and humidity that the environment that the weld  wire is used and stored in. Other things will influence that E71T-1 wire use.
With the good vertical up deposition rates and the the  rapid weave weld bead speeds, remember that E71-T-1 weld is controlled by the fast freeze thin weld slag that is further (influenced by the weld speed) and the slag can solidify too rapidly, not allowing the slag to melt or allowing the porosity time  to leave the weld and enter the slag. 

The greater  the weld current used > 250 amps, the less influence the fast freeze weld slag will have and pock marks on weld surface will be evident like an SAW weld without adequate flux . Many of you will use the E71T-1 wires for 1/4 or larger horizontal weld fillets and will have excess porosity or weld oxidation concerns  as the slag is too thin, unlike a basic slag on an E70T-1 wire which is thicker (slower weld cool) and provides more deoxidizers.
TIP TIG AND PIPE WELD COSTS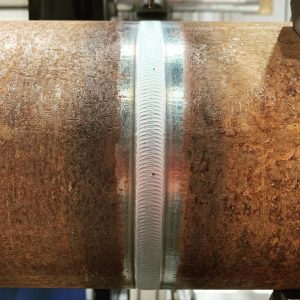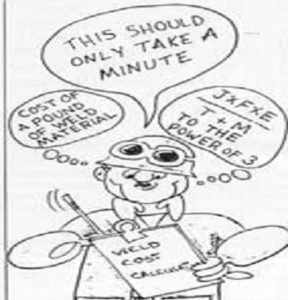 Many  weld shops will be aware that to step into the welding 21 st Century, and attain on code quality welds, the dramatic weld quality improvements and weld cost reductions from TIP TIG, will require dramatic weld changes that first will require front office weld process  ownership.
 DCEN TIG AND TIP TIG WELD COSTS:  Traditional arc weld costs are often confusing subjects that I do simplify in all my arc weld process control training programs. The reality is that discussions on weld costs are rare events in weld shops, especially with the DC TIG process that often produces welds at slower weld speeds than a turtle. When it comes to weld costs, it's more likely the weld shop front office will be more more  concerned about not having enough skilled TIG welders for a project, or concerned about the latest price increase of  the weld gases and wires used.
let's take a close look at TIP TIG and regular TIG weld costs. Below we have two weld shops bidding  against each other on a new one year code quality contract welding mostly pipe. 
_______________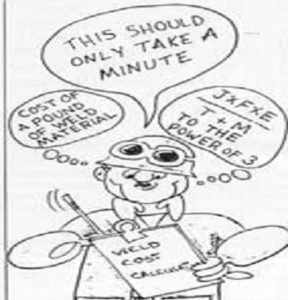 SHOP ONE WELD COSTS:  PIPE CONTRACT BID USING TRADITIONAL DC TIG:
To get the pipe  welding project contract, shop one figures it needs to hire 10 additional  DCEN TIG welders and purchase 10 new TIG units. The welders will mostly be producing ASME  pipe welds on high strength steels and alloy steels.  The project will last one year. The basic labor and power source budget for the shop one is, weld labor costs, 10 welders x $65.000 = $650.000/yr.  Plus 10 Inverter DCEN TIG power sources would be required,  TIG units at $7000 per-unit  x 10 = $70,000. TIG Labor costs plus weld equip.= total $720,000.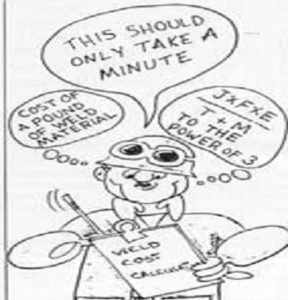 SHOP TWO WELD COSTS: PIPE CONTRACT BID WITH THE  TIP TIG PROCESS:  This shop also is looking to  bid on the above pipe contact. These guys decided to select the TIP TIG  process. With TIP TIG, in contrast to  DC TIG,  the weld shop can expect a minimum  300 to 400% increase in the TIG weld production obtained each hour. This shop bid on the job with three TIP TIG welders, 3 x $65.000/yr  = $195.000 and required the purchase of three TIP TIG units with an approx. cost of $26,000 each = x 3 = $78,000.  TIP TIG Labor and weld equipment costs  = total $273.000.
A REMINDER ABOUT PIPE WELD REWORK INFLUENCE ON WELD COSTS:
The three common areas for  all position, code quality pipe weld defects.
Weld fusion in the first two or three passes over the root.

 

Weld porosity throughout the welds.

 

All weld start and stops.

No other weld process has the capability of TIP TIG to ensure these weld defects do not occur. Using  the two or three TIP TIG recommended weld settings, and  the best weld practices, weld shops should anticipate zero weld rework. Also weld shops would anticipate a  200 – 400%  reduction in the annual argon gas costs, with a 15 – 25% reduction in weld wire costs. I am aware of many defense, aerospace, power, oil and other high tech companies that annually employ in their combined global manufacturing  facilities, hundreds of TIG welders. The reality is if the front office weld decision makers would wake up, dramatic weld cost reductions would be obtained from TIP TIG.

REGULAR TIG DEPOSITION RATES & WELD COSTS. Another subject also rarely discussed in weld shops would be DCEN TIG weld deposition rates.  Let's say that your manual TIG welder is welding steel or stainless pipe and using a common 3/32 steel TIG wire for the pipe "vertical up fill passes". The welder typically would feed around 8 to 9 inch of the 3/32 wire length each minute.  8 inch/min of 3/32  wire is approx. 1 lb/hr. However with a manual DCEN TIG deposition of 1 lb/hr and an average arc on time of 20 min/hr, those TIG  welders are typically depositing  on average approx. 0.03  lb/hr.
TIP TIG DEPOSITION  RATES AND WELD COSTS:In contrast to a manual TIG welder, a TIP TIG welder putting in the vertical up  fill pass on any steel or alloy steel pipe would average with an 0.035 MIG reel, about 180 inch/min of wire or approx 2.5lb/hr. As TIP TIG is a Semi-automated weld process, it would of course when used manually also increase the TIG arc on times dramatically.  With manual TIP TIG pipe welds, and an increased  arc on time of  30  min/hr, the TIP TIG welders would  typically deposit  on average  about 1.25  lb/hr, this simply means the TIP TIG welder is depositing 300% plus more TIG weld each hour than the regular TIG welder. 
Em's Process Control - Best Practice Self Teach / Training Resources.
MIG….Learn the manual MIG process controls to stop playing around with weld controls, plus the MIG Robot Weld Language and Best Weld Practice Data necessary for optimum  MIG and Pulsed MIG robot weld quality / productivity.


GAS SHIELDED FLUX CORED….There are a few optimum gas shielded flux cored weld settings for any wire when welding in any position. There are also many flux cored best weld practices  that with this process will assist in the best possible weld quality and productivity.


TIP TIG….Provide  front office personnel with e TIG or TIP TIG self teach / training resources to enable them to fully understand weld quality / weld costs/ weld productivity / weld application benefits along with the weld process control optimum weld data and unique TIP TIG weld practices that will ensure weld shops instantly attain the best possible weld quality / productivity results.    CLICK  HERE FOR RESOURCES.