TIP TIG KEY HOLE ON STAINLESS OR ON ANY METAL
TIP TIG CAN BE USED AS A MANUAL OR AUTOMATED PROCESS. TIP TIG CAN ALSO BE USED AS A DCEN PROCESS,  A  PULSED DC PROCESS, A KEY HOLE PROCESS AS SHOWN HERE,  OR AN DC/AC VARIABLE POLARITY PROCESS FOR ALUMINUM. TIP TIG CAN ALSO BE USED STRICTLY AS A TIG PROCESS AND THEREFORE CAN WELD THE EDGE OF A RAZOR BLADE TO ANY THICKNESS. UNLIKE TIG OR HOT WIRE TIG, TIP TIG IS COST EFFECTIVE  WHEN MANUAL WELDING ANY SIZE  APPLICATION, AND WHEN WELDING ANY  PART THICKNESS. 
The above is an AUTOMATED approach by TIP TIG to those that want to attain Keyhole full penetration welds, on metals that can be held RIGID. While few will weld like this, these single pass key hole welds reveal the versatility of this process.  With this keyhole  weld, TIP TIG would use approx. 450 amps. If  welds such as this resulted in Arc Length Variations, the keyhole process would then require  an  Automated Arc Voltage Control unit for the torch. Note: automated  TIP TIG welds typically do not require Arc Voltage Sensing Equipment, due to the reasons discussed in the TIP TIG versus TIG weld process section.
Take a second look at this automated  450 amp TIP TIG  key hole weld. First note the ease of use, no pulse mode action required. Note also the single pass, full penetration weld speed.  Also be aware of while producing full penetration, the lack of weld fumes from the stainless, fumes  that would typically produce extensive  carcinogenic  Hex Chrome concerns. 
What I am about to write in 2020 in this section could apply to any Stainless, Duplex,  Inconel or Hastelloy or any metal application, however I can't think of a more important  alloy weld application to discuss  in 2020 than the  stainless Starship  welds being produced at SpaceX. 
THOSE DISCUSSING TIP TIG SHOULD FIRST BE AWARE THAT TIP TIG SHOULD NOT BE CALLED A HOT WIRE PROCESS. The reason is simple, the Hot Wire TIG Process is not capable of producing the manual welds produced by TIP TIG. A more comprehensive description of the TIP TIG process and why it should not be called a Hot Wire process is available in the Welding Process section. Most weld shops are familiar with MIG welding Stainless, and perhaps some would have an interest as to why MIG weld need special gas mixes, while TIP TIG only requires argon. I developed the following six MIG gas mixes to either increase the MIG weld energy or to decrease the MIG gas reactivity. In contrast to MIG, TIP TIG provides higher weld energy than any MIG weld, and only uses inert argon.
In the 1980's, apart from being the key technical writer of the new AWS. GMAW Gas Specifications. I had a special interest in the MIG weld gas mixes being utilized for stainless welds. In this time period, to solve MIG stainless issues, I  developed the 98%  Argon – 2% CO2 mix and called it StainMix:
I have had a fascination with stainless MIG weld requirements for decades. It started in the 1980's  when I was a Western Region Training Manager for Linde in Canada. We were told by Linde that for weld shops that MIG welded stainless, to promote  a Helium Tri Mix containing  90% He -7.5% Argon – 2.5% CO2. This mix that was developed by Linde / Union Crabide gas researchers. The Linde gas research determined  that their Tri- Mix would improve the sluggish concerns that were created with MIG Short Circuit gauge welds.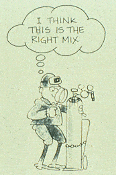 I have been stating in my weld process control – best practice training materials and books for more than four decades, the weld reality with industrial MIG gas mixes, is with the 50 MIG gas mixes available in N.America and Europe, first you would be aware of the general, global weld shop MIG gas confusion. And if you knew about MIG weld process controls, you would be  aware, that weld shops  to meet the  MIG weld needs for all metals, do not need more than four or five  MIG gas mixes  to meet the weld requirements for all metals and all applications, and from my perceptive to assist in reducing the MIG gas confusion. the MIG gas cylinders need to clearly identified for  the MIG welded metals  they were developed for.
The reality in the weld industry,  is that most of the MIG gas mixes used  in 2020,  as they have been for decades, are simply marketing / sales tools that help industrial gas companies attain gas sales in weld shops that simply don't know better.
IF ANY WELD SHOP THAT YOU WORKED IN HAD USED A THREE PART MIG GAS MIX FOR WELDING STEELS AND STAINLESS STEELS, THEY WERE SIMPLY PART OF THE MIG GAS CON GAME THAT HAS GONE ON FOR FOUR PLUS DECADES. 
I have always been the type of person that would rarely take notice of what people that make a living working in laboratories would have to say about MIG gas mixes,  especially when the company they work for can benefit from owning and promoting another so called, exclusive industrial gas mix that would have a large global weld application potential.
After working on thousands of stainless MIG weld applications, and  having extensive expertise in MIG weld process controls, I had a very different perspective than Linde on the  MIG gas solution required for  stainless gauge welds.  In the 1980s or in 2020, if you were to write down the concerns  that weld shops would have when using MIG Short Circuit welding thin stainless, the following would be common.
Burn Through
Distortion
OxidatioN
Minimize weld heat to minimize the formation of carbide precipitation
Spatter 

As you see, four of the above stainless gauge concerns are "weld heat related"  while the weld spatter was most often a result of lack of weld process control expertise in the weld shop. As you look at the stainless concerns,  a rational weld decision would wonder why would Linde engineers would have developed a Helium Tri- Mix , 90% Helium – 7.5%Argon – 2.5% CO2 which in reality was a  MIG mix that puts more energy into a weld than any other available MIG gas mix.
I decided to find out why the Linde / Union Carbide MIG gas researches, would recommend a product to put out weld  shop fires, by poring gasoline on the fires. I got hold of the paper that they wrote after their  Helium Tri Mix research, and was surprised to see that most of their Short Circuit MIG welds being tested were made on 1/8 (3 mm) stainless, and  of course stainless this thick welded with the rapid freeze short circuit welds would benefit from the helium increased energy.
Now away from the researches, and  out in the real weld shop world, when I trained weld personnel in weld shops on how to get the best results on stainless MIG welds 1/8 thick, I would not use Short Circuit, but I would  with an 0.035 wire use the start point of Spray Transfer with an available  Argon – 2% Oxygen mix. 
So back to how I got to produce STAINMIX,  a mix  suited to welding the common  thin 18 – 16 – 14  gauge stainless applications, and a mix also suited to all Spray and Pulsed MIG applications on parts of any thickness. My chance came in the 1980s, when I was hired by AGA  Cleveland, in the role of a weld product and industrial gas training manager. In this position at AGA,  I had the opportunity to develop  my own MIG gas mixes.  
The first thing I did to address the stainless gauge issues was to remove the helium from the tri-mix. I then tested the Argon – 2.5 % CO2 mix. Using optimum MIG short settings on 18 – 16 – 14 gauge stainless  fillets,  lap and butt welds, I found that in contrast to the Helium Tri-mix, the 2 -3 weld volt reductions enabled by eliminating the helium dealt with the  excess heat issues. And my Argon – 2 CO2 mix, in contrast to argon – 2% Oxygen commonly used for spray welds on thicker parts, was of course much less less oxidizing, producing easier to clean welds.  I also found my StainMix  98-2 MIX was also optimum with  Pulsed which was was introduced later. As to why i did not use  the 2.5% CO2,  well that 0.5 CO2 from Linde had  more to do marketing mystique, than it did  from a weld process sense.  AGA introduced my  gas to its customer and I called the gas StainMix. Later, in a similar role with Airgas USA. and Liquid Carbonic Canada, I again introduced this gas mix with slight variations in the name, and over three decades, around the globe this has become one of the most popular MIG gas mixes used by weld shops that weld stainless.
|

[] SteelMIX. I  developed 85% Argon – 15% CO2 and called it SteelMix. This is a logical  multi-purpose MIG gas for all steel welds. 
[] AlumMIX. I also developed  60% Argon – 40% Helium for Aluminum welds > 6 mm, and called this Alummix and it provided a good balance of argon for cleaning the alum. oxides and helium for providing  energy producing welds  that would  improve the aluminum weld fusion and reduce porosity.
[] DuplexMIX.  I followed up by developing a gas mix for welding Duplex steels, again using argon – CO2 with a slight Nitrogen addition, 97%Argon – 2 % CO2 – 1% Nitrogen.
[] NickelMIX. For MIG Nickel welds, as we had an alloy that created weld sluggish and oxidation concerns  I developed 59% Argon – 40% Helium – 1% CO2. The one percent CO2 enables arc stabilization and the helium addressed  the sluggish alloys in Nickel.
My MIG gas mixes would always take into account the weld transfer modes used, the energy required and the reactivity reactions.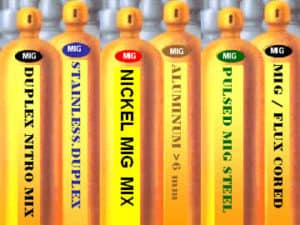 30 years have passed, and  all  my MIG gas mixes are now being used in many countries, however, you might want to know, what has all this MIG gas info. to do with TIP TIG,  the Semi-automated Plasch TIP TIG process that I introduced to N.America in 2009.  DCEN TIP TIG, will always provide a stark contrast in weld capability in contrast  to the Reverse  Polarity, Semi-automated MIG process.
TIP TIG with inert  argon, a gas that produces  the least influence on plasma energy, will however always provide

much higher weld energy capability than any MIG weld

with any gas mix.
TIP TIG increased weld speeds with EN polarity will always provide

dramatic reduced welded part heat

input than any MIG weld transfer mode.

TIP TIG will a

s a result of  it's unique weld transfer and EN polarity always 

provide superior weld-ability and  weld quality

than any MIG weld.
TIP TIG with an inert gas will always ensure the

cleanest welds, the lowest porosity and the least weld fumes. 

Note: Ed now Emily was in the 1980's,  a  key AWS committee member  that developed the AWS MIG Gas Specifications.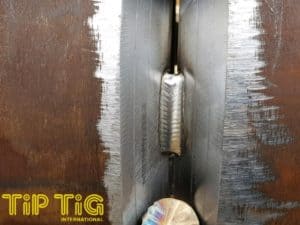 STAINLESS MANUAL ROOT WELD CAPABILITY. Being a sluggish alloy, stainless defects will often be found in tacks made with Pulsed MIG or Short Circuit. While the tack on the left is carbon steel, with TIP TIG, once the purge is in place  a welder will not notice the difference between a steel or stainless tack. With any pipe or plate weld positions, with the weld fluidity attained and also the rapid freeze weld characteristics unique to TIP TIG, this process not only provides a robust, root weld uniformity in any weld position, it does so all metals in a similar manner. TIP TIG welders will find is without question, the easiest to use all position process.
 On stainless welds as shown below, TIP TIG also is also the only arc weld process that enables optimum "uniform" open root welds using a simple, Two Side manual weld approach. With stainless large applications, this can eliminates the need for a purge. And with steels, TIP TIG can eliminate back gouging, while producing  code quality root welds, that  as with any TIP TIG weld, should NOT REQUIRE WELD REWORK. 
So apart from the traditional 5-6G pipe open root welds, if you have an inclination to think outside the box, take a moment  again with the TIP TIG Two Side Open  Root  Practice below, (something that  SpaceX and any  Rocket or tank weld shop  should consider). The two side root  technique is especially suited  on large  steels and alloy steels, tanks, vessels and plates.
ANY STEELS OR ALLOYS, TIP TIG TWO SIDE MANUAL OPEN ROOT WELDS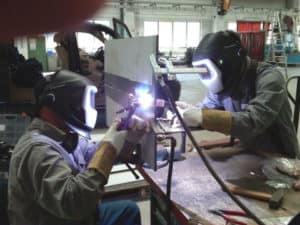 TIP TIG TWO SIDED ROOT. So rather than the above automated TIP TIG  Keyhole practice, here we have manual TIP TIG welders producing Two Sided Open Root welds. This could be an excellent weld solution for welding the Spacex Star Ships, or other appropriate size tanks, vessels, and plates which would allow the practice.  In contrast to the semi-automated TIP TIG process, if regular, manual  DC TIG was used, the  root welds would be very, very  slow with numerous weld starts / stops making DC TIG a poor choice.  If Pulsed MIG was considered, this process would not deal well with root gap dimension or misalignment variations, especially with the stainless gaps that are under size or shrink. 
MINIMIZE ROOT WELD REPAIRS: WITH THE TWO SIDE MANUAL ROOT METHOD, THE TIP TIG WELDER ON THE  GROOVE SIDE WOULD WELD THE OPEN ROOT. THE TIP TIG WELDER ON THE OPPOSITE SIDE OF THE ROOT JOINT,  WOULD TRAIL  ABOUT 12 – 25 mm  BEHIND THE WELDER  USING A LARGE GAS CUP AND PROVIDING GAS COVERAGE WHILE BLENDING AND FILLING THE  ROOT. THE TRAILING TIP TIG WELDER WOULD BE USING HIGHER CURRENT THAN THE OPEN ROOT WELDER, WHICH WOULD  ENSURE EXCELLENT WELD TIE IN TO THE HOT ROOT.  USING THIS METHOD, THE TIP TIG WELDERS ARE PROVIDING A CONTROL OF THE ROOT  ID-OD THAT HAS NEVER BEFORE BEEN POSSIBLE. TWO SIDE STAINLESS, DUPLEX PR NICKEL ALLOYS ROOT BENEFITS. NO PURGE, NO GRINDING, NO ARC GOUGING. FIRST TIME ROOT WELD QUALITY ON LARGE APPLICATIONS THATS  NOT BEEN POSSIBLE WITH A TRADITIONAL DC TIG OR PULSED MIG.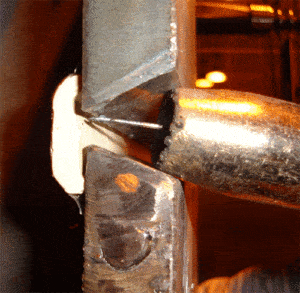 LESS WELD FOR DEFECTS AND REDUCE WELD LABOR AND CONSUMABLE COSTS: I STARTED WELDING IN 1961, AND SINCE THEN THE  TRADITIONAL VEE PREP DIMENSIONS ON CODE QUALITY WELDS WAS  60 to 90 DEGREES. DEPENDING ON THE PLATE  THICKNESS,  VEE GROOVE  PREPS. CAN BE CHANGED FROM THE NORMAL  60 TO 90 DEGREES, WITH TIP TIG TO VEE GROOVES OF 45 TO 55  DEGREES. FOR THOSE AWAKE IN N.AMERICA, THINK ABOUT THE DRAMATIC WELD LABOR AND CONSUMABLES COST SAVING POSSIBILITIES, WITH THE TIP TIG PROCESS.
On this steel sample we have a TIP TIG root weld in the 40 degree part of bevel opening to a 50 degree. Stainless and all metals can also benefit also from dramatic weld labor / consumable cost reductions attained from reducing the traditional Vee groove dimensions.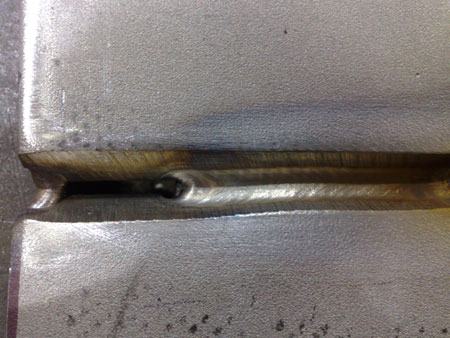 Remember one prime reason for the reduced bevels with  TIP TIG is this process provides superior weld fluidity and therefore superior side wall fusion than any other arc weld process. From a reduction in groove weld shops will see weld labor and wire and gas cost savings in the typical range of  30 to 60%, that is  when the front office personnel  wake up to the possibilities of the TIP TIG weld process.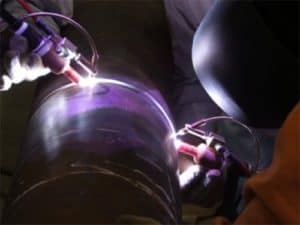 ONCE THE WELD PROCESS IS DETERMINED, engineers should be aware that consistent and uniform optimum weld quality with any weld process including TIP TIG  means employees need more than so called qualified welders and  skill training.  When welders use TIP TIG, they will need to be aware of the unique TIP TIG weld process controls and best weld practices that are not only necessary to attain the maximum weld quality and productivity but also  attain the full weld and metallurgical potential from the TIP TIG weld equipment.

FOR DECADES, I WOULD NOT TRAIN A COMPANY UNLESS THE FRONT OFFICE WELD DECISION MAKERS PARTICIPATED.  It's important when training a weld shop in  process control and best weld practices for MIG – Flux Cored and  TIP TIG,  that those front office weld decision makers  also be trained so all involved can take the one weld path to  consistent and uniform weld optimization. Also with TIP TIG, it's important for front office personnel to be taught on what the TIP TIG will can do for their business;
It's important with TIP TIG for front office personnel to be aware that manual or automated complex alloys are now welded with ease, therefore allowing growth into new weld applications.

It's important  with TIP TIG for the front office to learn that with all position welds, weld quality is excellent in any position and welder skills are dramatically reduced, therefore there  is less need to purchase or utilize positioning equipment and move  parts.

It's important  with TIP TIG for the front office to learn about the reduced weld  costs from no weld rework, reduced weld edge prep and reduced weld / grinding consumable costs.

It's important  with TIP TIG for the front office to learn that grinding should no longer necessary  and make goals to reduce their grinding wheel purchases.

Its important  with TIP TIG for the front office to be aware that TIP TIG as A TIG unit can weld the edge of a razor blade or as a TIP TIG unit can cost effectively weld any metal applications of any thickness or size.

Its important  with TIP TIG for the front office to be aware that with TIP TIG, training time is short and one weld process, one weld gas, one weld qualification and one weld procedure is all that will be required.

Its important  with TIP TIG for the front office to be aware that pre-heat, inter pass or post heat can be reduced or eliminated with TIP TIG. Also distortion or oxidation  no longer a concern.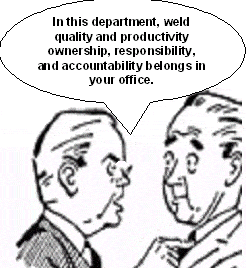 LACK OF WELD  PROCESS OWNERSHIP IS WHAT YOU WILL FIND IN INDUSTRIES AS DIVERSE AS AEROSPACE AND AUTOMOTIVE. IN THESE AND OTHER  INDUSTRIES YOU WILL FIND THE MANAGEMENT APPROACH TO THEIR NEVER ENDING WELD ISSUES IS TO;
BLAME THE WORKERS FOR THE WELD QUALITY PRODUCED,

THROW MORE BODIES AT THE END OF ROBOT LINES OR  INTO THE WELD SHOP,

ASK WORKERS TO WORK  UNNECESSARY LONG HOURS,

HIRE MORE ENGINEERS, MANAGERS  OR CONSULTANTS THAT WILL LIKELY LACK WELD PROCESS CONTROL – BEST PRACTICE EXPERTISE, 

ASK FOR WELD ADVICE FROM A WELD  SALESMEN WHO HAS NEVER MANAGED A WELD SHOP,

CONSIDER HAVING THE WELDS DONE WITH MORE COSTLY SOPHISTICATED WELD EQUIPMENT LIKE LASERS OR ROBOTS THAT TYPICALLY  WILL ADD MORE ISSUES TO THE WELD SHOP.


FIREMEN SHOULD NOT BE IN CHARGE OF WELDING SPACE VESSELS, LNG TANKS, POWER PLANT PRESSURE VESSELS AND PIPES, AIRCRAFT CARRIERS, OR NUCLEAR COMPONENTS. It's common in many mfg. facilities in N. America to find managers who work to avoid progressive weld quality / productivity changes,  and instead take the costly fireman  approach of trying daily to quench their  weld shop  fires, while the reality is the managers and their engineers lack the ability to  permanently put the fires out. 
At most global manufacturing facilities it would  be difficult to find managers who are aware of the importance of  Weld Process Controls and Best Weld Practice expertise. And as mentioned these are not subjects  taught at any College or  University, but they are  resources that are provided at this site.
Different TIP TIG Weld Solutions for Stainless - Inconel or Duplex Weld Applications. And more about SpaceX or any Aerospace or Defense company and how they can benefit from the Unique Weld Attributes of TIP TIG.
TIP TIG UNITS SURROUND SPACEX  STARSHIP COMPONENTS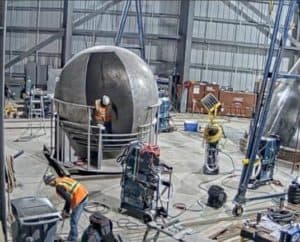 Establishing a new weld process in the "why change the way we have always done it"  N. American weld industry, was not an easy task for Tom and I back in 2009. The reason was most N.American weld shops relied on  distributors who were tied up with weld equipment  agreements to sell  Lincoln, Miller, Hobart  and ESAB equipment. And in general, the distributors were simply not interested in pushing the costly TIP TIG  process, a  product that they did not understand.  I believe Plasch the Austrian inventor tried on several occasion to introduce TIP TIG to the N. America and failed each time.  I believe  the reason Tom and  I were  successful  in the introduction of this important process was with the seminars and work shops that we presented and from the many  in house demonstrations in which we presented the  TIP TIG benefits.



The first TIP TIG weld that I produced in 2009 was a 309 stainless on steel.
IT DID NOT TAKE POWER SOURCE ELECTRONICS TO PRODUCE A WELD QUALITY AND PRODUCTIVITY NEVER POSSIBLE FOR CODE QUALITY, ALL POSITION WELDS.
It should not take anyone more that 10 minutes to figure out as I did, that an easy to use weld process that enables the highest weld energy in an inert atmosphere, while producing the lowest welded part heat, is in reality the weld process that will deliver the weld requirements for any CODE QUALITY WELDS.
A few years after my TIP TIG seminars  in 2009 – 2010.  I  had to deal with cancer and my great friend and business partner Tom O'Malley took over ownership of  TIP TIG USA. I have not been involved with TIP TIG since then. So why did I develop this tiptigwelding.com  and my  weldreality.com site.
The bottom line I simply love my profession, and I cannot stand the too common salesmanship and process confusion  that surrounds the common arc welding processes. I also cannot understand the lack of weld process ownership that prevails in the front offices of  most global  weld shops. Also, what welder can respect managers, engineers and supervisors that feel they need to rely on a weld salesman for weld advice. 
A GOOD ENGINEER WOULD ALWAYS FIRST LOOK TO PROVIDE SIMPLE SOLUTIONS. 
In the 1000 plus weld shops I assisted, I was well aware  that weld quality is also assisted  by decision makers keeping  the manufacturing and weld process  requirements as simple  as possible. The weld reality is with TIP TIG and the correct training, their is no weld process as simple to use for all position welds. 
Examine the stainless  application below. 100% X-Rays required to API quality and flange tolerances measured by a few thou. The Alberta contractor could not meet the requirements without extensive costly weld rework, until I suggested TIP TIG.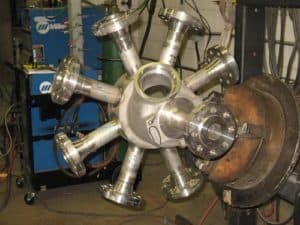 STAINLESS OR STEEL WELDS, WITH TIP TIG THE WELDER IS USING A PROCESS THAT DELIVERS THE HIGHEST POSSIBLE WELD ENERGY:
When welding any metals and alloys and also  aluminum, with the TIP TIG process, the welder is placing a  continuous fed solid weld wire into the top portion of the TIG  arc plasma. 
In contrast to DC TIG, the unique TIP TIG unobtrusive wire to plasma position allows full plasma coverage over the weld surface.
Also in contrast to DC TIG,  the smaller diameter  DC TIP TIG wire drops shown here melts rapidly, and those  fluid weld drops are assisted by the wire vibrations into  the higher energy TIP TIG weld.
Remember with TIP TIG , the weld energy is not only improved by the full plasma coverage, but also as a result of the higher deposition  capability that enables more current per-weld to be used, which provides for a higher energy more intense plasma than was ever possible with any TIG or pulsed MIG weld.
TIP TIG, ALWAYS IMPROVED  WELD FUSION CAPABILITY.  So in contrast to TIG – MIG and Flux Cored, TIP TIG creates the highest possible temperature weld pool, a  weld  feature that is remarkable with all metals  and especially on stainless where the weld fluidity generated, provides  the weld process ability to overcome welds with sluggish solidification concerns.
NO MORE USE OF GAS MIXES.   TIP TIP should not require the additions of Helium or hydrogen to argon as the weld energy that can be generated with TIP TIG will meet the weld needs of most metals and applications.
LOWEST POSSIBLE ARC WELDED PART HEAT INPUT:  MIG and flux cored use Reverse Electrode Positive which maintains most of the weld energy in the plasma which influences the large HAZ with welds from these processes. As TIP TIG welds are made with Electrode Negative (EN)  polarity, a polarity that provides excellent weld heat conductivity into the metals welded. The EN polarity with the increased weld speed capability of TIP TIG,  enables finally in the 21st Century a weld process that delivers for the weld shop,the highest weld energy with the lowest possible welded part heat input.
Instead of Pulsed MIG and flux cored and TIG, this company now only uses TIP TIG.
Testing TIP TIG vert up single pass welds on 5/16 Stainless and Duplex. No weld fumes, no weld spatter, no weld cleaning easy all position welds that wont require weld rework.
WELD SHOP SAFETY AND LEGAL LIABILITY: For those worried about the health effects from stainless Carcinogenic, Hexavalent Chrome weld fumes, as long as the parts welded  are clean, TIP TIG as its doing on the above 3/8 or 1/2 duplex vert up single pass 5/16 fillet weld, will always provide the lowest possible fumes. The weld reality is, even on large applications, in contrast to pulsed MIG and gas shielded flux cored, TIP TIG  will likely eliminate or reduce the need for fans or exhaust equipment. 

INCREASED TIP TIG WELD DEPOSITION EXTENDS WELD APPLICATION POTENTIAL In contrast to traditional DC TIG. The TIP TIG welder without working harder will produce, on average, 200% to 400% more weld each hour. With all position welds TIP TIG provides similar weld speeds to Pulsed MIG. With manual gauge weld > 1.6 mm weld l speeds in the range of 30 to 60 inch/min.
What applies to stainless weld quality applies to all code weld quality applications.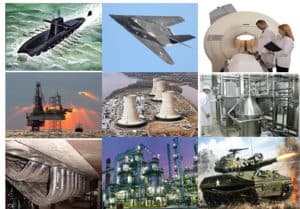 NO  GRINDING, AND REDUCED GRIND WHEEL PURCHASES.  All TIP TIG welds should require NO GRINDING, no wasted labor, no grinding wheels and no grinding dust and particles flying around the shop. TIP TIG also eliminates alloy hazardous grinding dust breathing and disposal concerns common with stainless, inconel, nickel-copper, hastelloy  and other alloys.
WHY USE TWO WELD PROCESSES WHEN YOU CAN USE ONE PROCESS, ONE WIRE, ONE GAS AND ONE WELD PROCEDURE. With TIP TIG, the weld shop has one weld process capable of all welds and provides the opportunity to  eliminate weld rework. TIP TIG is a process that requires no more than three weld settings for all the welds you would find in a Nuclear plant.
CODE QUALITY WELDS POSSIBLE WELD REWORK, OR PROVIDE WELDS THAT SHOULD NOT REQUIRE WELD REWORK. From root welds to welds on any metal, any thickness or any part size, why would any weld shop bother with TIG, Pulsed MIG, or flux-cored and be concerned about the resulting weld rework, excess weld heat, inconsistent weld quality, or weld spatter and weld fume concerns?
It's never been this way in a weld shop. A Weld Process that enables No Spatter. No Porosity or Fusion Concerns. No Weld Cleaning. No Distortion. No Mechanical Corrosion or Cracking Concerns. No Weld Fumes. No weld Rework.
Note how thick the flange is, and the weld fluidity and minuscule weld HAZ
For more than a decade in the Aerospace, Defense, Food Processing, Power, Medical and Oil industries that welded stainless and other alloys, the majority of weld decision makers have ignored the weld potential of what you see in the next Stainless video.
NOTE THE STAINLESS TIP TIG WELD SPEED OF 15 SECONDS TO WELD 15 INCHES. From gauge to any thickness the weld benefits are the same. One or two hands on the torch. No foot control. Typically two weld settings for all the stainless welds in your shop.  Weld Vertical, weld vertical down, horizontal or overhead, its all the same and the skills can be taught in a few hours. No weld cleaning, grinding or weld fumes, i guess this is not enough reasons to create CHANGE in your weld shop.
FOR DECADES, AT LEAST  THE STAINLESS WELD ISSUES WERE CONSTANT ESPECIALLY WHEN WELDING GAUGE APPLICATIONS.
When I think back over the decades  in hundreds of weld shops and welding gauge stainless welds similar to this fillet weld, there  was always the same concerns.
Excess weld heat,

spatter,

distortion,

cracks,

weld oxidization that influenced costly weld cleaning

corrosion influenced by carbide precipitation that will be influenced by the welded part heat input and cooling rates

for safety that is in the those weld shops that are concerned about the influence of stainless, duplex and inconel  weld fumes and grinding  dust that deliver carcinogenic Hex Chrome issues.
A  SIMPLE QUESTION FOR ANY WELD SHOP.  WHY WOULD YOU CONSIDER  DC  TIG – PULSED MIG OR GAS SHIELDED FLUX CORED, AS WITH THOSE PROCESSES, YOU CANNOT PRODUCE THIS WELD  OR ATTAIN THE WELD BENEFITS. 
So the above customer was concerned about distortion with the flange and the weld shop was fed up with the weld fumes and spatter and stainless weld cleaning.  TIP TIG process was provided and by the way, that 1/4 stainless fillet was weld at 28 inch/min.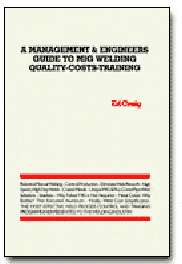 On the subject of   TIP TIG – MIG and Flux Cored weld process controls and best weld practices  I have written 4 books on the subject and I wrote the weld section in the Machinery Handbook, not that anyone ever reads it. But more important, with process controls and best weld practices, I practiced what I preached in over a 1000 welds shops, and after providing the weld quality and productivity improvements  I would then provide my weld process training programs. With this in mind, and with the privilege that comes from  age and experience, I feel more than qualified to offer  Elon Musk and any  engineers  and managers something they would likely never ask for and something they are not  likely used to, the  practical and highly cost effective weld advice delivered here always of course at NO CHARGE.